El gobernador Scott destaca un importante plan de acción y una inversión de $500 millones para mantener a los estudiantes de Florida a salvo
DeFuniak Springs, Fla.—El 28 de febrero, el Gobernador Rick Scott visitó Tampa, Jacksonville y DeFuniak Springs con el fin de destacar su plan de acción para realizar cambios importantes y así ayudar a mantener a los estudiantes de Florida a salvo, plan que incluye una inversión de $500 millones en seguridad escolar y salud mental. La propuesta del Gobernador siguió a las reuniones de emergencia que el Gobernador Scott organizó con la policía, los administradores escolares, los maestros, los expertos en salud mental y el liderazgo de la agencia estatal, así como las reuniones que el Gobernador organizó con estudiantes de Marjory Stoneman Douglas High School. Su plan de acción es el siguiente:
Mantener las armas lejos de personas peligrosas y violentas
Crear la "Orden de restricción de amenazas violentas" que permitirá a un tribunal prohibir que una persona violenta o mentalmente enferma compre o posea un arma de fuego.
Fortalecer las restricciones de compra y posesión de armas para personas mentalmente enfermas bajo la Ley Baker.
Prohibir que una persona posea o compre un arma de fuego si está sujeta a una orden judicial de protección contra el acoso, el acecho cibernético, la violencia entre parejas, la violencia recurrente, la violencia sexual o la violencia doméstica.
Exigir que todas las personas que compren armas de fuego tengan 21 años o más. Las excepciones incluyen el servicio activo y reserva de militares y cónyuges, miembros de la Guardia Nacional y la aplicación de la ley.
Establecer sanciones penales mejoradas por amenazas a las escuelas.
Prohibir la compra o venta de acciones adicionales.
Propuesta de $ 450 millones para mantener a los estudiantes a salvo
Oficiales de recursos escolares obligatorios en todas las escuelas públicas.
Proporcionar a los departamentos de los alguaciles la autoridad para capacitar al personal escolar adicional o reservar a los agentes del orden público para proteger a los estudiantes si así lo solicita la junta escolar local.
Exigir entrenamiento obligatorio de tirador activo en las escuelas públicas.
Aumentar el financiamiento en la Asignación de Escuelas Seguras para abordar las necesidades específicas de seguridad escolar dentro de cada distrito, incluyendo medidas como detectores de metales, vidrio a prueba de balas, puertas de acero y cerraduras mejoradas.
Establecer un nuevo K-12 anónimo de "Ver algo, decir algo" en todo el estado, línea directa de ayuda, sitio web y aplicación móvil.
Establecer fondos para exigir acceso a consejeros dedicados a la salud mental para proporcionar servicios de asesoramiento directo a los estudiantes en cada escuela.
Exigir que cada escuela tenga un equipo de evaluación de amenazas.
Requerir entrenamiento de intervención de crisis para todo el personal de la escuela.
Propuesta de $ 50 millones para iniciativas de salud mental
Expandir los equipos de servicios de salud mental en todo el estado.
Exigir que cada oficina del alguacil tenga un administrador de casos de DCF integrado en su departamento para trabajar exclusivamente como asistente social de crisis para casos repetitivos en la comunidad.
Proporcionar coordinación policial y de salud mental con los administradores de casos de DCF como se describe anteriormente.
Gov. Scott Highlights Major Action Plan and $500 Million Investment to Keep Florida Students Safe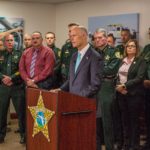 DeFuniak Springs, Fla.—On Feb. 28, Governor Rick Scott visited Tampa, Jacksonville and DeFuniak Springs to highlight his action plan to make major changes to help keep Florida students safe, including a $500 million investment in school safety and mental health. The Governor's proposal, followed the emergency meetings Governor Scott organized with law enforcement, school administrators, teachers, mental health experts, and state agency leadership, as well as meetings the Governor hosted with students from Marjory Stoneman Douglas High School. His action plan is as follows:
Keeping Guns Away from Dangerous and Violent People
Create the "Violent Threat Restraining Order" which will allow a court to prohibit a violent or mentally ill person from purchasing or possessing a firearm.
Strengthen gun purchase and possession restrictions for mentally ill individuals under the Baker Act.
Prohibit a person from possessing or purchasing a firearm if they are subject to an injunction for protection against stalking, cyberstalking, dating violence, repeat violence, sexual violence, or domestic violence.
Require all individuals purchasing firearms to be 21-years-old or over. Exceptions include active duty and reserve military and spouses, National Guard members, and law enforcement.
Establish enhanced criminal penalties for threats to schools.
Ban purchase or sale of bump stocks.
$450 Million Proposal to Keep Students Safe
Mandatory School Resource Officers in every public school.
Provide sheriffs' departments the authority to train additional school personnel or reserve law enforcement officers to protect students if requested by the local school board.
Require mandatory active shooter training in public schools.
Increase funding in the Safe Schools Allocation to address specific school safety needs within each district including measures like metal detectors, bullet-proof glass, steel doors, and upgraded locks.
Establish a new, anonymous K-12 "See Something, Say Something" statewide, dedicated hotline, website and mobile app.
Establish funding to require access to dedicated mental health counselors to provide direct counseling services to students at every school.
Require each school to have a threat assessment team.
Require crisis intervention training for all school personnel.
$50 Million Proposal for Mental Health Initiatives
Expand mental health service teams statewide.
Require every sheriffs' office to have a DCF case manager embedded in their department to solely work as a crisis welfare worker for repeat cases in the community.
Provide law enforcement and mental health coordination with DCF case managers as outlined above.