Comienza la campaña nacional de "Click it or Ticket"
TALLAHASSEE, Fla. – A partir del 1 de marzo, la Florida Highway Patrol (FHP, Patrulla de Carreteras de Florida) se une a sus socios en la campaña nacional Click It or Ticket hasta el 14 de marzo de 2018. De día o de noche, las personas deben abrocharse el cinturón de seguridad, todo el tiempo.
En 2017, más de 600 personas que decidieron no usar el cinturón de seguridad murieron en un accidente automovilístico. FHP recuerda a todos que la ley de Florida requiere el uso de cinturones de seguridad por parte de los conductores, los pasajeros en el asiento delantero y todos los niños menores de 18 años en un vehículo de motor.
Los siguientes consejos ayudarán a los conductores y las familias a llegar a su destino de forma segura:
Abróchate el cinturón, todo el tiempo. El cinturón de seguridad es la mejor característica de seguridad de su vehículo. Pon el ejemplo.
Maneje sobrio. No beba ni use drogas y conduzca.
Asegúrese de que los pasajeros del asiento trasero también estén abrochados. Son más propensos a lastimarse a sí mismos y a otros pasajeros en un choque, si no están abrochados.
Obedezca todos los límites de velocidad. La congestión del tráfico y las zonas de construcción pueden requerir conducir más despacio.
Los cinturones de seguridad y las bolsas de aire brindan la mayor protección para los adultos. Sin embargo, las bolsas de aire no son un sustituto de los cinturones de seguridad.
No conduzca distraído. Cualquier cosa que quite toda su atención del camino, incluso por un segundo, podría ser mortal.
National Click It or Ticket Enforcement Campaign Begins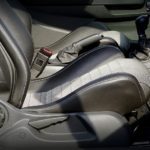 TALLAHASSEE, Fla. – Beginning March 1, the Florida Highway Patrol (FHP) joins its law enforcement partners in the national Click It or Ticket campaign that runs through March 14, 2018. Day or night, individuals should buckle up, every time.
In 2017, more than 600 people that chose not to wear their seat belt were killed in a vehicle crash. FHP reminds everyone that Florida law requires the use of seat belts by drivers, passengers in the front seat and all children under the age of 18 in a motor vehicle.
The following tips will help drivers and families arrive at your destination safely:
Buckle up, every time. A seat belt is your vehicle's best safety feature. Set the example.
Drive sober. Don't drink or use drugs and drive.
Make sure your rear-seat passengers are also buckled. They are more likely to injure themselves and other passengers in a crash, if not buckled up.
Obey all speed limits. Traffic congestion and construction zones may require driving more slowly.
Seat belts plus air bags provide the greatest protection for adults. However, air bags are not a substitute for seat belts.
Don't drive distracted. Anything that takes your full attention off of the road, even for a second, could be deadly.