Renovando la esperanza para Venezuela
MOBILE, Ala.—"Renewing Hope for Venezuela" (Renovando la Esperanza para Venezuela) es una organización sin fines de lucro que continuamente recauda fondos para ayudar a las personas en Venezuela a renovar la esperanza para la gente de ese país. Dirigida por Yohan Torrez, la organización ha enviado fondos y paquetes de suministros desde Mobile, AL a múltiples ubicaciones, así como suministros médicos a las instalaciones de atención para personas mayores.
Torrez crea varias oportunidades para la comunidad de la Costa del Golfo para ayudar. Las ventas, eventos de comida y recolecciones de donaciones se anuncian semanalmente en su página de Facebook "Renewing Hope for Venezuela." Allí también comparte historias de las condiciones en las que se enfrentan los venezolanos, incluyendo la inanición y la falta de asistencia médica.
Busque "Renewing Hope for Venezuela" en Facebook y únase al grupo para mantenerse actualizado sobre los esfuerzos locales para ayudar a nuestros hermanos y hermanas venezolanos.
Renewing Hope for Venezuela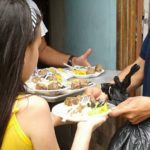 MOBILE, Ala.—Renewing Hope for Venezuela is a non-profit organization that continuously raises funds to help feed people in Venezuela to renew hope for the people of this country. Led by Yohan Torrez, the organization has sent funds and supply packages from Mobile, AL to multiple locations as well as medical supplies to senior care facilities.
Torrez creates various opportunities for the Gulf Coast community to help. Yard sales, food events and donation collections are announced weekly on their Facebook page "Renewing Hope for Venezuela." There she also shares stories of the conditions in Venezuelans face including starvation and lack of medical assistance.
Search "Renewing Hope for Venezuela" in Facebook and join the group to stay up to date on local efforts to help our Venezuelan brothers and sisters.
[adrotate group="1"]