Turista adolescente cae después de ser atrapada en la marea
DESTIN, Florida – Un turista de Illinois de 19 años se ahogó el sábado después de quedar atrapado en una corriente de resaca en el Golfo de México cerca de la Carretera Escénica 98 en Destin.
Los salvavidas sacaron a varias personas del agua a pesar de que el Golfo estaba cerrado para nadar debido a las peligrosas condiciones creadas por las bandas exteriores del huracán Delta.
Un nadador angustiado de 22 años de Illinois fue llevado al Centro Médico de Fort Walton Beach con un buen pronóstico, sin embargo, Dakota Pierce de Sumner Illinois no respiraba cuando fue sacado del Golfo y luego fue declarado en la Sala de Emergencias de Destin.
Los testigos dicen que fueron alados por una corriente de resaca y Pierce fue vencido por las olas.
Varias personas entraron al Golfo con la esperanza de ayudar, en cambio,  el oleaje agitado les dio problemas.
Las condiciones peligrosas están indicadas por dobles banderas rojas en la playa.
Teen tourist downs after being caught in riptide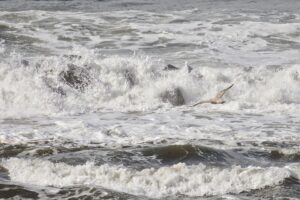 DESTIN, Fla. – A 19-year old Illinois tourist drowned Saturday after being caught in a rip current in the Gulf of Mexico off Scenic Highway 98 in Destin.
Lifeguards pulled multiple people from the water despite the Gulf being closed to swimming due to dangerous conditions created by the outer bands of Hurricane Delta.
A 22-year old distressed swimmer from Illinois was taken to Fort Walton Beach Medical Center with a good prognosis, however Dakota Pierce of Sumner Illinois was not breathing when pulled from the Gulf and was later pronounced at the Destin Emergency Room.
Witnesses say the pair got pulled out by a rip current and Pierce was overtaken by waves.
Individuals entering the Gulf hoping to help instead found themselves getting into trouble in the rough surf.
The dangerous conditions are indicated by double red flags at the beach
[adrotate group="1"]