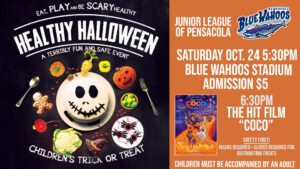 Trick or Treat para Halloween y película en el estadio Blue Wahoos
PENSACOLA, Fla. – Los Blue Wahoos y la Junior League of Pensacola se unirán el sábado 24 de octubre para presentar "Healthy Halloween" en el Blue Wahoos Stadium con un truco o trato seguro y una película familiar. A partir de las 5:30 p.m., las puertas del estadio se abrirán para el trick or treat organizado por la Liga Juvenil de Pensacola, que repartirá delicias saludables y sabrosas en las estaciones alrededor del estadio. A las 6:30 p.m., se invitará a los visitantes a acomodarse para disfrutar en proyección de video el éxito de Disney, Coco. Los boletos para el evento cuestan $5 e incluyen el trick or treat (truco o trato) y la película.
Hay una cantidad limitada de boletos disponibles para el evento ahora en BlueWahoos.com.
Se requieren máscaras para todos los invitados y el personal durante todo el evento y deben usarse cada vez que los invitados se muevan por el estadio. Las máscaras se pueden quitar cuando los invitados estén comiendo / bebiendo o cuando estén sentados con el distanciamiento social apropiado para disfrutar de la película. Todos los miembros del personal se toman la temperatura diariamente y usarán guantes cuando interactúen con los huéspedes.
Durante la película, los invitados tendrán la oportunidad de sentarse en el campo del estadio Blue Wahoos para ver la película en el tablero de video del estadio. No se permitirá que los grupos de más de 10 personas se sienten juntos y todos los grupos separados deberán sentarse a un mínimo de seis pies de distancia de acuerdo con las pautas de distancia física locales y estatales. Las gradas del estadio también estarán abiertas para asientos.
Las concesiones estarán disponibles durante el evento en varios puntos del estadio. No se permitirán sillas ni comida o bebida del exterior. Se anima a los invitados a traer una manta para que su grupo se siente.
Halloween Trick-Or-Treat And Movie at Blue Wahoos Stadium
PENSACOLA, Fla. – The Blue Wahoos and the Junior League of Pensacola will join together on Saturday, October 24 to present "Healthy Halloween" at Blue Wahoos Stadium featuring safe trick-or-treating and a family-friendly movie. Beginning at 5:30 p.m., gates at the stadium will open for trick-or-treating hosted by the Junior League of Pensacola, who will hand out healthy tasty treats at stations around the ballpark. At 6:30 p.m., guests will be invited to settle in to enjoy a showing of the Disney hit Coco on the videoboard. Tickets to the event are $5 and include both trick-or-treating and the movie.
A limited number of tickets are available for the event now on BlueWahoos.com.
Masks are required for all guests and staff throughout the event and should be worn any time guests are moving about the stadium. Masks may be removed when guests are eating/drinking or when seated with appropriate social distancing to enjoy the film. All staff members have their temperature checked each day and will be wearing gloves when interacting with guests.
During the film, guests will have the opportunity to sit on the field at Blue Wahoos Stadium to watch the movie on the stadium's videoboard. No group larger than 10 people will be permitted to sit together and all separate groups will be required to sit a minimum of six feet apart in accordance with local and state physical distancing guidelines. The stadium's stands will also be open for seating.
Concessions will be available during the event at multiple points throughout the stadium. No chairs or outside food or drink will be permitted. Guests are encouraged to bring a blanket for their group to sit on. 
[adrotate group="1"]