43° Festival Anual de Mariscos de Pensacola del 6 al 8 de noviembre
PENSACOLA, Fla. – Saboree deliciosos mariscos y disfrute del entorno histórico del centro de Pensacola durante el 43 ° Festival Anual de Pescados y Mariscos de Pensacola (Pensacola Seafood Festival), producido por Fiesta Pensacola. El festival GRATUITO de tres días se llevará a cabo el 6, 7 y 8 de noviembre en la Plaza de Sevilla y el Parque de la Fuente del centro de Pensacola.
Horas del festival
Viernes 6 de noviembre 11 a.m .– 11 p.m.
Sábado, 7 de noviembre 10 a.m .– 11 p.m.
Domingo 8 de noviembre 11 a.m .– 5 p.m.
El festival de este año contará con una gran cantidad de platos de mariscos y otros deliciosos platos del festival. Deleite su paladar con una variedad de platos preparados por vendedores de comida cuidadosamente seleccionados que bordean el parque a lo largo de las calles Government y Alcañiz. Un área de Gulf-to-Table contará con restaurantes que prepararán porciones del tamaño tipo tapas de sus recetas exclusivas. En el Fiesta Seafood Grille se llevarán a cabo demostraciones de cocina en vivo con  chefs famosos de Pensacola.
Se anima a los visitantes a traer sillas o mantas para disfrutar del entretenimiento en vivo.
Se tomarán varias precauciones de COVID durante el fin de semana, que incluyen pero no se limitan a: estaciones de desinfección adicionales en los parques, desinfectante en cada puesto de bebidas, voluntarios adicionales asignados a la limpieza de las mesas, miembros del comité y voluntarios también usarán máscaras, etc. Se le pide a al público que también usen una máscara mientras caminan por el parque para ver a los vendedores.
La carpa infantil COX contará con actividades divertidas para que los niños de todas las edades se las lleven a casa, como manualidades, páginas para colorear y más. Estará ubicado junto a la carpa de Información del Festival en la Plaza de Sevilla.
43rd Annual Pensacola Seafood Festival Nov. 6 – 8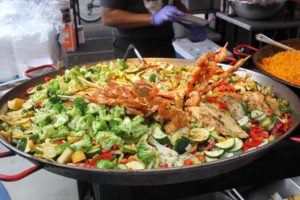 PENSACOLA, Fla. – Savor delicious seafood and enjoy the historic surroundings of downtown Pensacola during the 43rd Annual Pensacola Seafood Festival, produced by Fiesta Pensacola.  The FREE three-day festival will take place November 6, 7 and 8 in Downtown Pensacola's Seville Square and Fountain Park.
Festival Hours
Friday, November 6                          11 a.m. – 11 p.m.
Saturday, November 7                    10 a.m. – 11 p.m.
Sunday, November 8                        11 a.m. – 5 p.m.
This year's festival will feature a plethora of seafood dishes and other delicious festival fare.  Treat your taste buds to a variety of cuisine prepared by carefully selected food vendors bordering the park along Government and Alcaniz Streets. A Gulf-to-Table area will feature restaurants that will prepare tapas-size portions of their signature recipes. Live cooking demonstrations by Pensacola celebrity chefs will take place at the Fiesta Seafood Grille.
Visitors are highly encouraged to bring chairs or blankets to enjoy the live entertainment.
Various COVID precautions will be taken throughout the weekend, including but not limited to: additional sanitizing stations throughout the parks, sanitizer at each beverage booth, additional volunteers assigned to table cleaning, committee members and volunteers in masks, etc. Patrons are also asked to wear a mask while walking around the park, viewing the vendors.
The COX Children's Tent will feature fun activities for children of all ages to take home with them, including crafts, coloring pages and more. It will be located by the Festival Information tent in Seville Square. 
[adrotate group="1"]