Ciclovía regresa al centro de Pensacola
PENSACOLA—El evento Ciclovía de Pensacola, parte de un movimiento internacional único, cierra las calles del centro al tráfico motorizado el 24 de marzo de 9 a.m. hasta las 2 p.m. y los abre para que toda la comunidad esté activa y se divierta. Este evento fomenta y promueve la actividad física segura con otros mientras explora el centro de la ciudad.
Una gran parte del centro de la ciudad se cerrará a vehículos motorizados y estará abierta para ciclistas, peatones, corredores, skaters y más. Los cierres incluyen Palafox Place desde Romana Street hasta Plaza DeLuna, y Main Street desde Community Maritime Park hasta Bartram Park. Música, vendedores y eventos divertidos se llevarán a cabo en el área, incluyendo un área para niños en Plaza DeLuna, exámenes de salud y más. Todas las actividades organizadas por Ciclovia son gratuitas.
Los objetivos principales incluyen promover la salud pública, impulsar nuestra economía local, reducir la contaminación y mostrar el centro como un espacio amigable para las personas y un modelo para salir de nuestros automóviles y hacer ejercicio.
"El año pasado atrajimos a 10,000 visitantes al centro de la ciudad, muchos por primera vez en años, y se lo pasaron genial. Esperamos hacerlo aún mejor este año," dijo el presidente de Ciclovia, Rand Hicks. "La epidemia de obesidad ha subrayado el valor del ejercicio," dijo Hicks. "Eso es una ventaja para el centro, porque los centros urbanos son excelentes para las personas que buscan aceras y lugares seguros para conectarse. Si queremos mejorar el comportamiento de las personas, debemos mostrarles lo que está disponible. Creemos que una vez que las personas vean lo fácil que es moverse por el centro sin automóviles, no estarán pensando en hacer ejercicio, simplemente se lo pasarán en grande."
Para mantenerse actualizado sobre Ciclovia 2018 y obtener más información sobre Pensacola Open Streets, visite a www.PensacolaOpenStreets.com o su página de Facebook.
Ciclovia Returns to Downtown Pensacola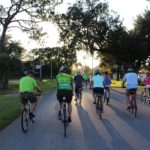 PENSACOLA—Pensacola's Ciclovia event, part of a unique international movement, closes downtown streets to motorized traffic on March 24 from 9 a.m. until 2 p.m. and opens them up for the entire community to be active and have fun. This event encourages and promotes safe physical activity with others while exploring downtown.
A large portion of downtown will close to motorized vehicles and open to bicyclists, pedestrians, runners, skateboarders and more. Closures include Palafox Place from Romana Street to Plaza DeLuna, and Main Street from the Community Maritime Park to Bartram Park. Music, vendors and fun events will be staged around the area, including a Kids Area at Plaza DeLuna, health screenings and more. All of the activities organized by Ciclovia are free.
The primary goals include promoting public health, boosting our local economy, reducing pollution, and showcasing downtown as a people-friendly space and a model for getting out of our cars and exercising.
"Last year we drew 10,000 visitors to downtown, many for the first time in years, and they had a blast. We hope to do even better this year," said Ciclovia chairman Rand Hicks. "The obesity epidemic has underscored the value of exercise," Hicks said. "That's a plus for downtown, because urban centers are great for people looking for sidewalks and safe places to connect. If we want to change peoples' behavior for the better, we need to show them what's available. We think that once people see how easy it is to get around downtown without cars, they won't be thinking about exercising, they will just be enjoying themselves."
To stay updated on Ciclovia 2018 and learn more about Pensacola Open Streets, go to PensacolaOpenStreets.com or check the Facebook page.
[adrotate group="1"]