Nueva caminata de dunas en Gulfarium
Gulfarium Marine Adventure Park ha abierto su nuevo Dune Walk.
La nueva característica de 551 pies rodea el lado oeste de la propiedad y brinda impresionantes vistas del Golfo de México, mientras le brinda a los huéspedes la oportunidad de aprender sobre la importancia de las dunas en el ecosistema costero.
El Dune Walk ofrece una nueva y emocionante perspectiva de las múltiples exhibiciones en el Gulfarium, incluyendo Dune Lagoon, Fort Gator y The Bayou. Ahora los huéspedes no solo pueden ver algunas de sus exhibiciones favoritas desde un nuevo ángulo, sino que también hay una nueva exhibición de tortugas de caja para disfrutar.
"Estamos muy emocionados de abrir nuestra nueva Dune Walk y resaltar la importancia de los lagos de dunas costeras," dice Patrick Berry, Director de Gulfarium. "Estos lagos son características geográficas únicas, que se encuentran solo en un puñado de áreas, ¡incluso aquí en el noroeste de Florida! Muchas especies en peligro de extinción, incluidas las tortugas marinas y los ratones de playa, utilizan los lagos de dunas para anidar y refugiarse, por lo que son una parte esencial del medio ambiente."
Las entradas norte y sur de Dune Walk tienen acceso para sillas de ruedas para que todos los visitantes puedan disfrutar de la nueva área.
Gulfarium Marine Adventure Park está ubicado en 1010 Miracle Strip Pkwy SE, Fort Walton Beach, FL 32548. Abrimos los siete días de la semana desde las 9:00 a.m. Para obtener más información, visite www.gulfarium.com o llame al (850) 243-9046.
New Dune Walk at Gulfarium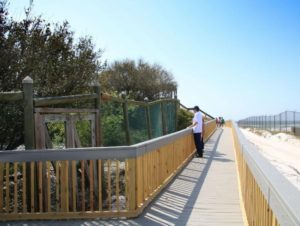 Gulfarium Marine Adventure Park has opened their new Dune Walk.
The new 551ft feature wraps around the west side of the property and provides breathtaking views of the Gulf of Mexico while giving guests the opportunity to learn about the importance of dunes in the coastal ecosystem.
The Dune Walk offers an exciting new perspective of multiple exhibits at the Gulfarium, including Dune Lagoon, Fort Gator and The Bayou. Not only can guests now view some of their favorite exhibits from a new angle, there is also a new box turtle exhibit to enjoy.
"We are very excited to open our new Dune Walk and highlight the importance of coastal dune lakes," says Patrick Berry, Gulfarium's Director. "These lakes are unique geographical features, found only in a handful of areas, including right here in Northwest Florida! Many endangered species, including sea turtles and beach mice, use dune lakes for nesting and shelter, making them an essential part of the environment."
The north and south entrances of the Dune Walk are wheelchair accessible so that the new area can be enjoyed by all visitors.
Gulfarium Marine Adventure Park is located at 1010 Miracle Strip Pkwy SE, Fort Walton Beach, FL 32548. We are open seven days a week from 9:00 a.m. For more info visit www.gulfarium.com or call (850) 243-9046.
[adrotate group="1"]