Se anima a los residentes a monitorear el potencial de clima severo el jueves
Con un riesgo aumentado de clima severo para el área del condado de Escambia pronosticado por el Servicio Nacional de Meteorología (NWS) de los EE. UU de Mobile, el condado de Escambia está animando a los residentes a monitorear el pronóstico para el jueves 18 de abril y tomar las precauciones necesarias.
Las amenazas potenciales incluyen vientos dañinos (posiblemente mayores de 70 mph), tornados y 1-3 pulgadas de lluvia, según NWS (National Weather Service) Mobile. Un tornado fuerte también es posible. Se espera que el clima severo llegue entre las 7 p.m. Jueves por la noche y 2 a.m. viernes por la mañana.
Según NWS Mobile, una línea de turbulencia se moverá a través de nuestra región a partir de la tarde del jueves. Son posibles vientos dañinos de más de 70 mph, así como tornados incrustados. Una amenaza limitada de inundación es posible. Las fuertes lluvias locales en un corto período de tiempo podrían contribuir a inundaciones urbanas o menores en algunas áreas. Se espera que el oleaje alto aumente de 5 a 8 pies desde el jueves por la tarde hasta el viernes, con corrientes peligrosas presentes.
Siga estos consejos para mantenerse seguro durante el clima severo:
Preste especial atención a los informes meteorológicos locales hasta que la tormenta se haya movido a través del área. Asegúrese de mantener su radio meteorológico encendido y su teléfono celular cargado para asegurarse de que pueda recibir alertas meteorológicas.
Con la posibilidad de fuertes vientos, se recomienda que cualquier mueble o equipo exterior liviano se asegure antes del atardecer del jueves.
Las organizaciones con actividades externas planificadas durante este período de Aunmento de Riesgo deben ser conscientes del clima y tomar las medidas apropiadas.
En caso de una advertencia de tornado, muévase a una habitación interior en el piso más bajo de su casa o edificio. Manténgase alejado de las ventanas.
En el caso de una carretera cubierta por agua, no intente conducir sobre la carretera inundada. La profundidad del agua puede ser engañosa, y podría terminar varado o atrapado.
Residents Encouraged to Monitor Potential Severe Weather Thursday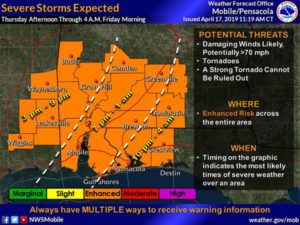 With an Enhanced Risk of severe weather for the Escambia County area predicted by the U.S. National Weather Service of Mobile, Escambia County is encouraging residents to monitor the forecast for Thursday, April 18 and take precautions as needed.
Potential threats include damaging winds (possibly greater than 70 mph), tornadoes and 1-3 inches of rainfall, according to NWS Mobile. A strong tornado is also possible. The severe weather is expected to arrive between 7 p.m. Thursday night and 2 a.m. Friday morning.
According to NWS Mobile, a squall line will move across our region beginning late Thursday afternoon. Damaging winds in excess of 70 mph are possible as well as embedded tornadoes. A limited flooding threat is possible. Locally heavy rainfall in a short period of time could contribute to urban or minor flooding in some areas. High surf is expected to build to 5-8 feet late Thursday afternoon through Friday, with dangerous rip currents present.
Follow these tips to stay safe during severe weather:
Pay extra attention to local weather reports until the storm has moved through the area. Be sure to keep your weather radio on and your cell phone charged to ensure you can receive weather alerts.
With the possibility of high winds, it is recommended that any lightweight outside furniture or equipment be secured before dark Thursday evening.
Organizations with planned outside activities during this Enhanced Risk period need to be weather aware and take the appropriate actions.
In the event of a Tornado Warning, move to an interior room on the lowest floor of your home or building. Stay away from windows.
In the event of a roadway covered by water, do not attempt to drive over the flooded road. Water depth may be misleading, and you could end up stranded or trapped.
[adrotate group="1"]