Ladrón atrapado en el acto
OKALOOSA COUNTY, Fla. – Un ladrón armado fue sorprendido en el acto de su crimen en Nochebuena a través de una sociedad entre un ciudadano vigilante y los oficiales de la Oficina del Sheriff del Condado de Okaloosa. Justo antes de las 2 de la madrugada, un residente de Keyser Mill Road alertó a los agentes sobre un ladrón en su casa. El residente pudo ver al sospechoso de forma remota desde otro lugar. Los agentes respondieron y observaron al sospechoso tratando de salir de la residencia. Cuando establecieron un perímetro, el sospechoso los vio y huyó de regreso a la residencia donde se negó a múltiples comandos para salir durante varias horas.
Debido a la preocupación de que pudiera estar armado, el Equipo de Respuesta Especial de OCSO fue llamado a la escena. El sospechoso continuó negándose a rendirse. Mientras los miembros del SRT registraban la residencia, el hombre, posteriormente identificado como Roy Cato de Defuniak Springs, de 39 años, trató de escapar por los aleros del porche delantero donde se había escondido en el ático. Se le vio arrojando un cuchillo a la casa. Cato fue detenido por miembros del Equipo de Respuesta Especial en ese momento.
Dentro de la casa, Cato había perforado numerosos agujeros en las paredes y cortado cables eléctricos.
Se quejó de una lesión en el brazo y fue revisado médicamente antes de ser trasladado a la cárcel del condado de Okaloosa por múltiples cargos.
En la cárcel, los oficiales de la prision encontraron cinco jeringas y bolsitas que contenían metanfetamina y heroína escondidas en una cavidad corporal. Se agregaron a la lista varios cargos relacionados con las drogas.
Burglar caught in the act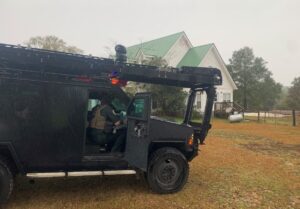 OKALOOSA COUNTY, Fla. – An armed burglar was caught in the act of his crime on Christmas Eve through a partnership between a vigilant citizen and Okaloosa County Sheriff's Office deputies. Just before 2 AM, a resident on Keyser Mill Road alerted deputies to a burglar in his home. The resident was able to view the suspect remotely from another location. Deputies responded and observed the suspect trying to exit the residence. As they set a perimeter, the suspect saw them and fled back into the residence where he refused multiple commands to exit for several hours.
Due to concerns that he may be armed, the OCSO Special Response Team was called to the scene. The suspect continued to refuse to surrender. As SRT members searched the residence, the man, later identified as 39-year old Roy Cato of Defuniak Springs, tried to escape out the eaves of the front porch where he had concealed himself in the attic. He was seen throwing a knife back into the house. Cato was taken into custody by members of the Special Response Team at that time.
Inside the home, Cato had punched numerous holes in walls and cut electrical wires.
He complained of an injury to his arm and was medically cleared before being transported to the Okaloosa County Jail on multiple charges.
At the jail, Corrections Officers found five syringes and baggies containing meth and heroin hidden in a body cavity. Several drug related charges were added to the list.
[adrotate group="1"]