Alerta de estafa de Gulf Power
Gulf Power dice que los clientes están viendo una mayor frecuencia de intentos de estafa este diciembre.
"Protegerse de las estafas es una batalla constante en cualquier época del año, pero desafortunadamente, es aún peor ahora que los estafadores intentan aprovecharse de las personas distraídas por las diversas actividades relacionadas con las vacaciones," dijo Marlene Santos, presidenta de Gulf Power. "Una mayor conciencia de estos intentos es la mejor defensa. No queremos que ninguno de nuestros clientes sean víctima de estas estafas."
Muchos intentos exigen un pago inmediato, generalmente con una tarjeta de débito prepaga, o la llamada telefónica mostrará Gulf Power en el identificador de llamadas. Desafortunadamente, existe tecnología que permite a la persona que llama falsificar el número en el campo de identificación de llamadas y crear un sistema de respuesta de voz que imita el propio sistema de la empresa de servicios públicos. Si no está seguro o se siente amenazado durante la llamada, simplemente cuelgue y comuníquese con Gulf Power al 800-225-5797 o conéctese en línea para ver su cuenta de Gulf Power y verificar el estado de su cuenta. También puede llamar a las autoridades policiales locales.
Gulf Power ofrece los siguientes consejos para protegerse contra estafas de servicios públicos:
Conozca los signos de una posible actividad fraudulenta:
Amenaza de desconexión: los estafadores pueden decirle agresivamente a un cliente que su factura de servicios públicos está vencida, y el servicio se desconectará, generalmente en una hora, si no se realiza un pago.
Solicitud de pago inmediato: los estafadores pueden indicarle a un cliente que compre una tarjeta prepaga, una criptomoneda o que envíe fondos a través de una aplicación móvil para realizar el pago de una factura.
Solicitud de tarjeta de prepago: los clientes deben pagar con una tarjeta de débito prepaga. El impostor solicita el número de la tarjeta prepaga, que le otorga acceso instantáneo a los fondos de la tarjeta.
Cómo pueden protegerse los clientes:
Los clientes nunca deben comprar una tarjeta prepaga para evitar la interrupción del servicio. Las empresas de servicios públicos no solicitan una tarjeta prepaga y siempre ofrecen una variedad de formas de pagar una factura.
Si alguien amenaza con la interrupción inmediata del servicio, los clientes deben estar al tanto. Los clientes con cuentas vencidas reciben múltiples avisos anticipados, generalmente por correo o correo electrónico y en su factura mensual regular.
Si los clientes sospechan que alguien está tratando de estafarlos, deben colgar, borrar el correo electrónico o cerrar la puerta. La empresa de servicios públicos debe ser contactada de inmediato al número que aparece en la factura mensual más reciente o en el sitio web oficial de la empresa, no al número de teléfono que proporciona el estafador. Si los clientes alguna vez sienten que están en peligro físico, deben llamar al 911.
Scam alert from Gulf Power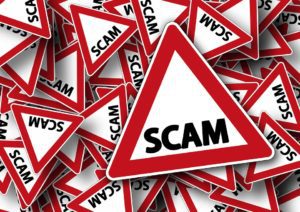 Gulf Power says customers are seeing a higher frequency of scam attempts in December.
"Protecting yourself against scams is a constant battle any time of year, but unfortunately, it is even worse now as scammers try to take advantage of people distracted by the various activities involved with the holidays," said Marlene Santos, Gulf Power president. "Heightened awareness of these attempts is the best defense. We don't want any of our customers to fall victim to these scams."
Many attempts either demand immediate payment, typically with a prepaid debit card, or the phone call will display Gulf Power in the Caller ID. Unfortunately, technology exists which allows a caller to falsify the number in the Caller ID field and create a voice response system that mimics the utility's own system. If you are unsure or feel threatened on the call, simply hang up and contact Gulf Power at 800-225-5797 or go online to view your Gulf Power account for verification of your account status. You can also call your local law enforcement authorities.
Gulf Power offers the following tips to protect against utility scams:
Know the signs of potential scam activity:
Threat to disconnect: Scammers may aggressively tell a customer their utility bill is past due, and service will be disconnected—usually within an hour—if a payment is not made.
Request for immediate payment: Scammers may instruct a customer to purchase a prepaid card, cryptocurrency or to send funds via a mobile app to make a bill payment.
Request for prepaid card: Customers are instructed to pay with a prepaid debit card. The impostor asks the for the prepaid card's number, which grants instant access to the card's funds.
How customers can protect themselves:
Customers should never purchase a prepaid card to avoid service interruption. Utility companies do not ask for a prepaid card and always offer a variety of ways to pay a bill.
If someone threatens immediate service interruption, customers should be aware. Customers with past due accounts receive multiple advanced notices, typically by mail or email and in their regular monthly bill.
If customers suspect someone is trying to scam them, they should hang up, delete the email or shut the door. The utility should be contacted immediately at the number on the most recent monthly bill or on the utility's official website, not the phone number the scammer provides. If customers ever feel that they are in physical danger, they should call 911.
[adrotate group="1"]