Desechar árboles de Navidad reales
La temporada navideña casi ha terminado. Para muchos, las decoraciones no se quitan hasta después del 6 de enero, Día de Reyes. Si pudo encontrar un árbol real este año, existen opciones para la eliminación adecuada, incluida la quema y la donación a las instalaciones locales.
Independientemente de cómo decida deshacerse de su árbol, asegúrese de remover todas las decoraciones, incluido el oropel. La mayoría de los servicios de desechos sólidos en la Costa del Golfo ofrecen recolección en la acera los días habituales de recolección. Asegúrate de no ponerlos en la calle. La mayoría de estos árboles se compostarán con otros desechos de jardín en los vertederos locales.
Los residentes del condado de Santa Rosa pueden dejar árboles vivos y limpios para reciclarlos en los siguientes lugares:
Estación de transferencia Jay – Transfer Station Road, Jay
Keep Santa Rosa Beautiful, Green Up Nursery – 6758 Park Ave., Milton
Departamento de Bomberos Voluntarios de Pace – 4773 Pace Patriot Blvd., Pace
Área de reciclaje del estacionamiento de la rampa para botes de Navarre Beach – Gulf Blvd., Navarre Beach
Área de recreación Tiger Point – Gulf Breeze, al este de Walmart
Puede optar por quemar su árbol. El Servicio Forestal de Florida ofrece los siguientes consejos de seguridad:
Nunca queme un árbol de Navidad en una chimenea o estufa de leña.
Consulte las ordenanzas locales para conocer los requisitos de quema al aire libre.
Queme sólo si ha habido lluvias importantes en los últimos tres o cuatro días.
Nunca queme en días secos o ventosos.
Seleccione un lugar de quema que esté al menos a 25 pies de las áreas naturales, a 25 pies de su hogar, a 150 pies de otros edificios ocupados y a 50 pies de cualquier camino público pavimentado.
Quite todas las decoraciones del árbol antes de quemarlo.
Corte el árbol en secciones manejables, según sea necesario.
Limpie el área de la quemadura de otros materiales inflamables, como hojarasca y paja de pino.
Tenga a mano una pala y una manguera de agua en caso de que el fuego comience a escapar de la contención.
Nunca deje un fuego desatendido y asegúrese de que esté apagado antes de salir.
Disposing real Christmas trees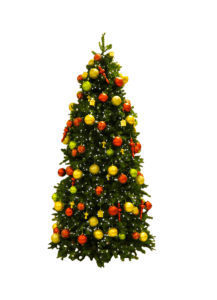 The holiday season is almost over. For many, decorations are not removed until after January 6, Three Kings Day. If you were able to find a real tree this year, there are options for proper disposal including burning and donating them to local facilities.
However you decide to dispose of your tree, be sure that it is free of all decorations including tinsel. Most solid waste services in the Gulf Coast offer curbside pickup on usual collection days. Be sure to not put them in the street. Most of these trees will be composted with other yard waste at local landfill facilities.
Residents of Santa Rosa County can drop off clean, live trees for recycling at the following locations:
Jay Transfer Station – Transfer Station Road, Jay
Keep Santa Rosa Beautiful, Green Up Nursery – 6758 Park Ave., Milton
Pace Volunteer Fire Department – 4773 Pace Patriot Blvd., Pace
Navarre Beach Boat Ramp Parking Lot Recycle Area – Gulf Blvd., Navarre Beach
Tiger Point Recreation Area – Gulf Breeze, east of Walmart
You may choose to burn your tree. The Florida Forest Service provides the following safety tips:
Never burn a Christmas tree in a fireplace or wood stove.
Check local ordinances for requirements for outdoor burning.
Burn only if significant rainfall has occurred in the last three or four days.
Never burn on dry or windy days.
Select a burn location that is at least 25 feet from natural areas, 25 feet from your home, 150 feet from other occupied buildings and 50 feet from any paved public roadway.
Remove all decorations from the tree before you burn.
Cut the tree into manageable sections, as necessary.
Clear the burn area free of other flammable materials, such as leaf litter and pine straw.
Keep a shovel and water hose handy in case the fire starts to escape containment.
Never leave a fire unattended, and make sure it is out before leaving.
[adrotate group="1"]