La seguridad pública y las normas comunitarias son lo primero en estas vacaciones de primavera en Pensacola Beach
PENSACOLA BEACH, Fla. – Pensacola Beach, famosa por su suave arena blanca, aguas color esmeralda y un ambiente relajado y despreocupado, ha sido durante mucho tiempo el destino de playa favorito y familiar que los locales aprecian. Los recién llegados se abrazan. La Santa Rosa Island Authority (SRIA, por sus siglas en inglés) se está esforzando por mantenerlo así durante las vacaciones de primavera.
"Cada año, Pensacola Beach se vuelve más popular como destino de vacaciones de primavera, y damos la bienvenida a todos los visitantes de nuestra isla,"dijo Paolo Ghio, Director Ejecutivo de SRIA. "Sin embargo, para garantizar que todos los que vengan a Pensacola Beach para sus vacaciones puedan disfrutar de la hospitalidad que ofrece nuestra comunidad, respete las siguientes normas."
CONOCE LAS REGLAS
Se permiten bebidas para adultos en la playa. Los envases de vidrio, el consumo de alcohol y la embriaguez pública no está permitido. Drogas ilegales y conducción bajo la influencia no serán toleradas. Las leyes y ordenanzas se aplicarán estrictamente, para la seguridad de todos.
Dondequiera que se hospede, sea respetuoso con sus vecinos y controle su nivel de ruido.
Además, los vehículos motorizados, los generadores, las parrillas, los incendios y las llamas abiertas están prohibidos en la playa.
DEJA SOLO TUS HUELLAS
Regla de oro: si la trajiste a la playa, llévala contigo. No se permite dejar en la playa tiendas de campaña, sombrillas, sillas y equipo de playa durante la noche. Se proporcionan botes de basura cerca de todas las entradas a la playa, y se le solicita que rellene los agujeros que pueda cavar en la arena.
Los perros son bienvenidos en la playa solamente en dos parques designados para perros. Reglas de uso se publican en línea y en los parques. Como siempre, sea cortés y elimine los desechos de las mascotas.
"Recuerda el lema, 'Deja solo tus huellas atrás,'" dijo Ghio. "Si sigue estos consejos, ayudará a preservar la belleza natural de nuestras playas y a asegurar que todos los visitantes tengan una experiencia agradable."
Para garantizar que todos disfruten de la playa y se mantengan seguros, el Escambia County Public Safety Chief, Dave Greenwood, desea recordar a todos los visitantes de la playa que sigan estos consejos:
CONOCE LOS COLORES DE LA BANDERA
Sepa cómo nadar si va a ingresar al Golfo y siempre nade cerca de un salvavidas. Los salvavidas estarán estacionados en Pensacola Beach todos los días a partir del 1 de marzo en Casino Beach, con patrullas conduciendo la isla, según sea necesario. Las estaciones de salvavidas en Park East, Park West y Quietwater Beach serán atendidas dependiendo de la disponibilidad de personal.
Banderas de colores flamean en todas las estaciones de salvavidas y otras entradas a la playa. Este sistema de advertencia está diseñado para alertar al público sobre las condiciones del surf. Esto es lo que significan los colores:
Bandera verde – Peligro bajo. Las condiciones son tranquilas. Nadar con la precaución habitual.
Bandera amarilla – Peligro medio. Oleaje moderado y corrientes. Nadar con extra precaución.
Bandera roja – Peligro alto. Altas olas y corrientes peligrosas. No se permite nadar o vadear en el Golfo de México.
Doble bandera roja – EL AGUA ESTÁ CERRADA. Esto se utiliza durante huracanes o desastres naturales. No se permite nadar, vadear o surfear en el Golfo de México.
Bandera púrpura – La vida marina peligrosa está presente. Tenga cuidado cuando esté en el agua o en la costa.
Los colores actuales de la bandera y las condiciones del surf también están disponibles en línea en pensacolabeachlifeguards.com. En caso de emergencia, notifique a un salvavidas o llame al 911. 
Public Safety and Community Rules Come First This Spring Break on Pensacola Beach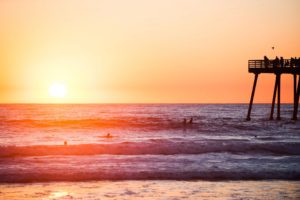 PENSACOLA BEACH, Fla. – Famed for its soft white sand, emerald-hued waters, and a carefree, easy-going atmosphere, Pensacola Beach has long been a favorite, family-friendly beach destination that locals cherish and newcomers embrace. The Santa Rosa Island Authority (SRIA) is striving to keep it that way this Spring Break.
"Every year Pensacola Beach becomes more popular as a Spring Break destination, and we welcome all visitors to our island," said Paolo Ghio, Executive Director of the SRIA. "However, to ensure that everyone coming to Pensacola Beach for their vacation is able to enjoy the hospitality our community has to offer, please adhere to the following regulations."
KNOW THE RULES
Adult beverages are allowed on the beach. Glass containers, underage drinking and public drunkenness are not. Illegal drugs and driving under the influence will not be tolerated. Laws and ordinances will be strictly enforced, for everyone's safety.
Wherever you're staying, please be respectful of your neighbors and keep your noise level in check.
In addition, motorized vehicles, generators, grills, fires and any open flames are prohibited on the beach.
LEAVE ONLY YOUR FOOTPRINTS
Rule of thumb: If you brought it to the beach, carry it back with you. Tents, umbrellas, chairs and beach gear are not allowed to be left overnight on the beach. Trash cans are provided near all beach entrances, and you are asked to fill in any holes you may dig in the sand.
Dogs are welcome on the beach at two designated dog parks only. Rules of usage are posted on line and at the parks. As always, please be courteous and remove pet waste.
"Remember the motto, 'Leave Only Your Footprints Behind,'" said Ghio. "If you follow that advice, it will help to preserve the natural beauty of our beaches and help ensure all visitors have an enjoyable experience."
To ensure everyone enjoys the beach and stays safe, Escambia County Public Safety Chief Dave Greenwood would like to remind all beachgoers to follow these tips:
KNOW THE FLAG COLORS
Know how to swim if you are going into the Gulf, and always swim near a lifeguard. Lifeguards will be stationed on Pensacola Beach daily starting March 1 at Casino Beach, with patrols driving the island, as necessary. Lifeguard stations at Park East, Park West and Quietwater Beach will be manned depending on staffing availabilities.
Colored flags fly at all lifeguard stations and other beach entrances. This warning system is designed to alert the public about surf conditions. Here is what the colors mean:
Green flag – Low hazard. Conditions are calm. Swim with usual caution.
Yellow flag – Medium hazard. Moderate surf and currents. Swim with extra caution.
Red flag – High hazard. High surf and dangerous currents. No swimming or wading is allowed in the Gulf of Mexico.
Double red flag – WATER IS CLOSED. This is used during hurricanes or natural disasters. No swimming, wading or surfing is allowed in the Gulf of Mexico.
Purple flag – Dangerous marine life is present. Exercise caution when in the water or on the shoreline.
Current flag colors and surf conditions are also accessible online at pensacolabeachlifeguards.com.  In case of emergency, notify a lifeguard or call 911. 
[adrotate group="1"]