Gulf Power comparte consejos para ayudar a los clientes a controlar su uso de energía mientras están en casa
PENSACOLA, Fla. – Durante esta crisis COVID-19 sin precedentes, hay más personas que se quedan en sus hogares, muchas de ellas con estudiantes y otros seres queridos. Es probable que más tiempo y más personas en el hogar aumenten el consumo de energía, lo que podría generar altas facturas mensuales.
Para proporcionar alivio a los clientes durante este tiempo, la compañía Gulf Power anunció recientemente planes para acelerar una disminución única de casi el 40% en mayo para la factura típica del cliente residencial como resultado de menores costos de combustible, sujeto a la Comisión de Servicios Públicos de Florida aprobación. Gulf Power suspende las desconexiones y proporciona extensiones de pago a los clientes en situaciones difíciles. Estas políticas permanecerán vigentes mientras Florida se encuentre en estado de emergencia. Para los clientes que experimentan dificultades como resultado de COVID-19, Gulf Power tiene recursos disponibles en GulfPower.com/Help.
Se recomienda a los clientes que paguen el saldo de su factura de electricidad cada mes para evitar acumular un gran saldo, del cual continuarán siendo responsables. Sin embargo, si los clientes tienen dificultades para pagar su factura mensual, vea los recursos disponibles en línea en GulfPower.com/Help o comuníquese directamente con Gulf Power al (800) 225-5797. La compañía eléctrica trabajará con la situación personal del cliente y encontrará una solución para garantizar que puedan cumplir con su responsabilidad personal por el equilibrio de Gulf Power.
La compañía comparte consejos de ahorro de energía para ayudar a administrar el uso de energía que se puede implementar fácilmente sin la necesidad de costos o equipos adicionales.
Tener más personas en casa durante un día caluroso te tentará a bajar el aire acondicionado para mantenerte fresco. Intente mantener su termostato a 78 o lo más cómodo posible para su situación. Cada grado que eleve el termostato puede ayudarlo a ahorrar hasta un 5% en sus costos mensuales de enfriamiento.
Adopte una política de puertas abiertas e intente mantener abiertas las habitaciones y otras puertas si es posible; las puertas cerradas pueden bloquear el flujo de aire de su aire acondicionado, haciendo que trabaje más.
Trate de mantener las luces apagadas en las habitaciones desocupadas. Dejar una lámpara, un ventilador o un televisor encendidos todo el tiempo puede aumentar su factura de electricidad.
Use los ventiladores con prudencia: su ventilador de techo lo mantiene fresco pero no enfría su habitación. Cuando salga de una habitación, apague el ventilador para ahorrar de $3 a $7 al mes en comparación con dejarlos encendidos todo el tiempo.
Apague los extractores de techo, baño y cocina cuando salga de la habitación o después de usarlos para ahorrar.
Recuerde cerrar las persianas y cortinas para mantener alejado el calor del sol, lo que mantiene su hogar más fresco.
Su televisor, sistemas de juegos, enrutadores y decodificadores de cable probablemente se están utilizando mucho en este momento. Tenga en cuenta que un mayor uso de televisores y sistemas puede aumentar su factura (aproximadamente $8 – $5 por mes), así que asegúrese de que estén apagados o desconectados cuando no estén en uso.
Use el electrodoméstico más pequeño que necesita para cocinar, como una olla de cocción lenta, microondas u horno tostador. Calentar una estufa u horno requiere bastante energía, además calienta la cocina, por lo que su aire acondicionado debe funcionar aún más para mantener su casa cómoda. Una tostadora o un horno de convección utilizan entre un tercio y la mitad de energía que un horno de tamaño completo.
¿Preparación de comidas para la semana? Hornee varios platos a la vez, utilizando el aparato más pequeño que necesita para hacer el trabajo. Cuando termine la cena, asegúrese de poner en funcionamiento un lavavajillas lleno. Ahorrará agua y electricidad. Más preparación de comida significa que se está almacenando más comida en su refrigerador y congelador. Limpie las bobinas del condensador de su electrodoméstico para que funcione de manera más eficiente. Asegúrese de que las juntas de la puerta del refrigerador sean herméticas. Pruébelo cerrando la puerta sobre un trozo de papel o un billete de un dólar para que quede medio dentro y medio fuera del refrigerador. Si puede sacar fácilmente el papel o el billete, es posible que deba ajustar el cierre.
¡Enciende la parrilla! Usar una parrilla al aire libre en lugar del horno puede ayudar a mantener su cocina fresca y reducir su factura de electricidad. Limpie el filtro de pelusas en su secadora antes de cada carga, no solo una vez que se llene, para minimizar el tiempo de secado.
Gulf Power shares tips to help customers take control of their energy use while at home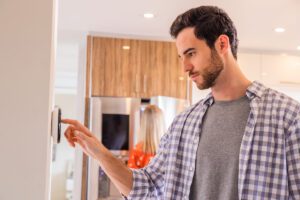 PENSACOLA, Fla. – During this unprecedented COVID-19 crisis, there are more people staying in their households, many with students and other loved ones. More time and extra people in the home will likely increase power usage, which could lead to higher monthly bills.
To provide relief for customers during this time, Gulf Power company recently announced plans to fast-track a one-time decrease of nearly 40% in May for the typical residential customer bill as a result of lower fuel costs, subject to Florida Public Service Commission approval. Gulf Power is suspending disconnections and providing payment extensions for customers in hardship situations. These policies will remain in effect while Florida is under a state of emergency. For customers experiencing hardships as a result of COVID-19, Gulf Power has resources available at GulfPower.com/Help.
Customers are encouraged to pay their electric bill balance each month to avoid building up a large balance, which they will continue to bear responsibility for. However, if customers are having difficulty paying their monthly bill, view available resources online at GulfPower.com/help or contact Gulf Power directly at (800) 225-5797. The power company will work with the customer's personal situation and find a solution to ensure that they can fulfill their personal responsibility for their Gulf Power balance.
The company is sharing energy-saving tips to help manage energy usage that can be easily implemented without the need for costs or additional equipment.
Having more people home during a hot day will tempt you to lower your AC to stay cool. Try to keep your thermostat set at 78, or as comfortable as possible for your situation. Each degree you raise the thermostat can help you save up to 5% on your monthly cooling costs.
Adopt an open-door policy and try to keep bedroom and other doors open if possible – closed doors can block the airflow of your AC, making it work harder.
Try to keep lights off in unoccupied rooms. Leaving a lamp, fan or television turned on all the time can increase your electric bill.
Use fans wisely: Your ceiling fan keeps you cool but doesn't cool your room. When you leave a room, turn off the fan to save from $3 to $7 a month compared to leaving them on all of the time.
Turn off ceiling, bathroom and kitchen exhaust fans when you leave the room or after use to save.
Remember to close shades, blinds and drapes to keep the sun's heat out, which keeps your home cooler.
Your TV, game systems, routers and cable boxes are probably getting a lot of use right now. Keep in mind, increased use of TVs and systems can raise your bill (approx. $8-$15 per month), so make sure that they are turned off or unplugged when not in use.
Use the smallest appliance you need to cook – like a slow cooker, microwave or toaster oven. Heating a stove or oven takes quite a bit of energy, plus it heats up the kitchen, so your AC must work even longer to keep your house comfortable. A toaster or convection oven uses one-third to one-half as much energy as a full-sized oven.
Meal prepping for the week? Bake several dishes at a time, using the smallest appliance you need to get the job done. When dinner's over, make sure to run a full dishwasher. You will save water and electricity.
More meal prep means more food is being stored in your refrigerator and freezer. Clean your appliance's condenser coils so it runs more efficiently. Make sure your refrigerator door seals are airtight. Test them by closing the door over a piece of paper or a dollar bill so it is half in and half out of the refrigerator. If you can pull the paper or bill out easily, the latch may need adjustment.
Fire up the grill! Using an outdoor grill instead of the oven can help keep your kitchen cool and lower your electric bill.
Clean the lint filter in your dryer before every load, not just once it fills up, to minimize drying time.
[adrotate group="1"]