Grupo de derechos civiles demanda a ICE en nombre de inmigrantes detenidos en alto riesgo de COVID-19
SAN ANTONIO, Tex. – Según el MALDEF (Fondo de Defensa Legal y Educación de México y Estados Unidos), grupos de derechos civiles están demandando al gobierno federal que busca la liberación de inmigrantes médicamente vulnerables detenidos en tres centros de detención de Texas, según una demanda presentada el 15 de abril.
En un comunicado de prensa, MALDEF dijo que la organización junto con el Proyecto de Derechos Civiles de Texas, Carlos Moctezuma García de García & Garcia Attorneys at Law, PLLC, y el abogado Javier Maldonado, presentaron una demanda de habeas corpus y una queja en nombre de tres personas detenidas en centros de detención de inmigrantes en el sur de Texas. Cada demandante sufre problemas de salud que lo hacen especialmente vulnerable a los estragos del COVID-19, la enfermedad causada por el nuevo coronavirus.
"Nuestro cliente y otros detenidos con condiciones de salud graves no deberían arriesgar sus vidas para buscar alivio migratorio," declaró Nina Perales, vicepresidenta de litigios y asesoría de MALDEF en el caso. "Los centros de detención no pueden exponer constitucionalmente a las personas bajo su cuidado a un grave riesgo de enfermedad y muerte."
El comunicado dice que están en cuestión las condiciones dentro de los centros de detención. Los inmigrantes describen medidas laxas para prevenir la propagación del virus, que incluyen recibir poca o ninguna atención médica por sus condiciones actuales, ser alojados en dormitorios llenos de gente, recibir jabón o desinfectante para manos insuficiente y verse obligados a interactuar con guardias que no usan guantes o máscaras faciales, incluso entregando comida a los detenidos, según la demanda.
"Es imposible distanciarse socialmente en estas instalaciones de ICE," dijo Efrén C. Olivares, Director Legal del Programa de Justicia Racial y Económica del Proyecto de Derechos Civiles de Texas. "Entonces, al mantener a nuestros clientes a su discreción, ICE está facilitando un brote que pondrá en peligro la vida de toda la comunidad, en áreas que ya cuentan con menos recursos de atención médica."
Los demandantes en el caso incluyen un solicitante de asilo y ajuste de 62 años de edad de México con diabetes tipo 1 e hipertensión que requiere insulina y otros medicamentos y que está detenido en el Centro de Detención del Condado de Webb en Laredo; un titular de tarjeta de residencia (green card) de 78 años originario de México con hipertensión que se encuentra recluido en el Centro de Procesamiento de Servicios Port Isabel en Los Fresnos, Texas; y un solicitante de asilo de Cuba de 28 años que sufre de asma severa y que está detenido en el Centro de Detención de Río Grande en Laredo.
Los abogados de los hombres argumentan que los funcionarios federales están violando los derechos constitucionales de los detenidos al no garantizar que los centros de detención de Texas sigan las pautas recientes emitidas por los Centros para el Control de Enfermedades y al proporcionar atención médica laxa.
La demanda nombra a los funcionarios de Aduanas e Inmigración de los EE. UU. (ICE) y el Departamento de Seguridad Nacional de los EE. UU. (DHS) como acusados. Los acusados adicionales incluyen guardias y oficiales del Centro de Detención del Condado de Webb, y el Centro de Detención de Río Grande, ambos en Laredo, así como el Centro de Detención de Port Isabel, en Los Fresnos.
La demanda afirma que el hecho de que las autoridades no tomen medidas para proteger a los detenidos del coronavirus viola los derechos de los inmigrantes bajo la cláusula del debido proceso de la Quinta Enmienda de la Constitución de los Estados Unidos. Según la Quinta Enmienda, el gobierno debe brindar atención médica y proteger a los detenidos de lesiones.
Los abogados también argumentan que las condiciones en las instalaciones violan una ley federal que exige que las personas con discapacidades no tengan prohibido participar en un programa que recibe fondos federales. La demanda sostiene que al exponer a los detenidos médicamente vulnerables al riesgo de contraer COVID-19, los funcionarios federales no brindan adaptaciones razonables a los detenidos debido a sus discapacidades en violación de la Ley de Rehabilitación de 1973.
El comunicado de prensa indica que ICE informa que hasta 72 personas bajo su custodia dieron positivo para el nuevo coronavirus y 19 empleados del centro de detención han sido diagnosticados con el virus. 
Civil rights group sues ICE on behalf of detained immigrants at high risk for COVID-19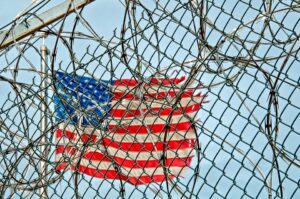 SAN ANTONIO, Tex. – According to MALDEF (Mexican American Legal Defense and Educational Fund), civil rights groups are suing the federal government seeking the release of medically vulnerable immigrants held at three Texas detention centers, according to a lawsuit filed on April 15.
In a press release, MALDEF said the organization along with the Texas Civil Rights Project, Carlos Moctezuma Garcia of Garcia & Garcia Attorneys at Law, P.L.L.C., and attorney Javier Maldonado, filed a writ of habeas corpus petition and complaint on behalf of three people detained at immigration detention facilities in South Texas. Each plaintiff suffers from health problems that make him especially vulnerable to the ravages of COVID-19, the disease caused by the novel coronavirus.
"Our client and other detainees with serious health conditions should not have to risk their lives to seek immigration relief," stated Nina Perales, MALDEF vice-president of litigation and counsel in the case.  "Detention centers cannot constitutionally expose the people in their care to grave risk of illness and death."
The release said at issue are the conditions inside the detention centers. The immigrants describe lax measures to prevent the spread of the virus, including receiving little or no medical care for their existing conditions, being housed in crowded dormitories, receiving insufficient soap or hand sanitizer, and being forced to interact with guards who do not wear gloves or face masks, even while handing out food to detainees, according to the lawsuit.
"It's impossible to socially distance in these ICE facilities," said Efrén C. Olivares, Legal Director of the Racial and Economic Justice Program at Texas Civil Rights Project. "So, by holding our clients at their discretion, ICE is asking for an outbreak that will endanger the lives of the entire community, in areas that are already starting out with fewer healthcare resources."
The plaintiffs in the case include a 62-year-old asylum and adjustment applicant from Mexico with Type 1 diabetes and hypertension who requires insulin and other medications and who is being held at Webb County Detention Center in Laredo; a 78-year-old green card holder originally from Mexico with hypertension who is being held at Port Isabel Service Processing Center in Los Fresnos, Tex.; and a  28-year-old asylum applicant from Cuba who suffers from severe asthma and who is being held at the Rio Grande Detention Center in Laredo.
Attorneys for the men argue that federal officials are violating the constitutional rights of the detainees by failing to ensure the Texas detention centers follow recent guidelines issued by the Centers for Disease Control and by providing lax medical care.
The lawsuit names officials at U.S. Immigration Customs and Enforcement (ICE), and the U.S. Department of Homeland Security (DHS) as defendants. Additional defendants include wardens and officers of Webb County Detention Center, and the Rio Grande Detention Center, both in Laredo, as well as the Port Isabel Detention Center, in Los Fresnos.
The suit claims that authorities' failure to take steps to protect detainees from the coronavirus violates the immigrants' rights under the due process clause of the Fifth Amendment of the U.S. Constitution. Under the Fifth Amendment, the government must provide medical care and protect detainees from injury.
Attorneys also argue that conditions at the facilities violate a federal law that requires that individuals with disabilities not be barred from participating in a program that receives federal funding. The lawsuit maintains that by exposing medically vulnerable detainees to the risk of contracting COVID-19, federal officials are failing to provide reasonable accommodations to the detainees because of their disabilities in violation of the Rehabilitation Act of 1973.
The press release indicates that ICE reports as many as 72 people in its custody who had tested positive for the novel coronavirus and 19 detention facility staffers have been diagnosed with the virus.
[adrotate group="1"]