Fin de semana mortal en las playas locales
LA COSTA DEL GOLFO DE LA FLORIDA Y ALABAMA – Las playas a lo largo de la Costa del Golfo estuvieron llenas durante el fin de semana del Día de los Caídos (Memorial Day). Hubo que rescatar a varios bañistas en la Florida y Alabama, pero algunos no pudieron ser salvados.
Los oficiales del Sheriff del Condado de Okaloosa dicen que los surfistas vieron a un hombre flotando boca abajo a unas 30 yardas de la costa al sur de un restaurante en la Scenic Highway 98 en Destin el 24 de mayo.
Lo sacaron del agua, pero los trabajadores de seguridad no pudieron salvarlo. Más tarde, las autoridades identificaron al hombre como Rogelio Moreno Gaitán de Lawrenceville, Georgia, de 63 años de edad. Los informes dicen que la familia de Gaitán dijo que había nadado solo.
El 27 de mayo, Edwin Nahun Pérez García, de 21 años, de Robertsdale se ahogó en la playa pública de Gulf Shores salvando a su primo.
García entró al agua para salvar a su pequeño primo que estaba atrapado en un arroyo. Los informes dicen que los salvavidas llevaron a García a la orilla y le dieron CPR, luego fue trasladado al South Baldwin Regional Medical Center, pero falleció.
Los servicios se llevaron a cabo para cada víctima en sus respectivos pueblos.
Hubo más muertes en las playas durante el fin de semana de vacaciones. Si bien no se reportaron víctimas fatales en Navarre y Pensacola Beach, 76 rescates se realizaron solo en Pensacola Beach.
Deadly weekend at local beaches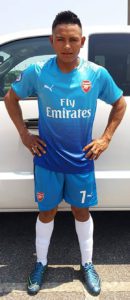 FLORIDA and ALABAMA GULF COAST – Beaches along the Gulf Coast were full during the Memorial Day weekend. Several beachgoers had to be rescued in Florida and Alabama, but some were not able to be saved.
Okaloosa County Sheriff's deputies say surfers spotted a man floating face down about 30 yards from shore south of a restaurant on Scenic Highway 98 in Destin on May 24.
He was pulled from the water, but safety workers were unable to save him. Authorities later identified the man as 63-year-old Rogelio Moreno Gaitan of Lawrenceville, Ga. Reports say Gaitan's family said had been swimming by himself.
On May 27, 21-year-old Edwin Nahun Perez García, of Robertsdale drowned on the public beach of Gulf Shores saving his cousin.
Garcia entered the water to save his little cousin who was trapped in a stream. Reports say that the lifeguards took Garcia to the shore and gave him CPR, then he was transferred to South Baldwin Regional Medical Center but passed away.
The services were held for each victim in their respective towns.
There were more fatalities on the beaches over the holiday weekend. While no fatalities were reported in Navarre and Pensacola Beach, 76 rescues were made in Pensacola Beach alone.   
[adrotate group="1"]