Alerta de rabia emitida para los condados de Escambia y Santa Rosa
PENSACOLA y MILTON, Fla. – El Departamento de Salud de la Florida en los condados de Escambia y Santa Rosa emitió una alerta de rabia para el área de Bayou Chico y la ciudad de Milton. La alerta en Pensacola responde al informe de un resultado de prueba positivo para la rabia en un gato el 25 de mayo de 2019, luego de que atacara a dos personas. Esta prueba sigue a una prueba positiva en un mapache encontrado en la misma área en enero de 2019. En Milton, un mapache dio positivo en la prueba de rabia el 31 de mayo.
Todos los residentes y visitantes de estas áreas deben saber que la rabia está presente en la población de animales silvestres y que los animales domésticos están en riesgo si no se vacunan.
La alerta de rabia durará 60 días y cubre el área en el sur del condado de Escambia, que rodea Bayou Chico, que se encuentra al sur de West Jackson Street, entre New Warrington Road y Pace Boulevard y la ciudad de Milton.
Un animal con rabia podría infectar a otros animales salvajes o animales domésticos que no hayan sido vacunados contra la rabia. Todos los animales domésticos deben vacunarse contra la rabia y los humanos deben evitar todo contacto con la vida silvestre, especialmente con mapaches, murciélagos y zorros. La rabia es una enfermedad del sistema nervioso y suele ser fatal para los animales de sangre caliente y para los humanos. El único tratamiento para la exposición humana a la rabia es la inmunoglobulina específica para la rabia y la inmunización contra la rabia. El tratamiento adecuado comenza poco después de la exposición protegerá a una persona expuesta a la enfermedad.
Se recomienda a los residentes y visitantes que tomen las siguientes precauciones:
Vacune a las mascotas contra la rabia y mantenga las vacunas al día.
Mantenga a las mascotas bajo supervisión directa para que no entren en contacto con animales salvajes. Si una mascota es mordida por un animal salvaje, busque asistencia veterinaria para el animal inmediatamente y comuníquese con Servicios para Animales del Condado de Escambia al 850-595-0097.
Llame a los servicios de control de animales para eliminar cualquier animal callejero de su vecindario.
Lleve alimentos para mascotas por la noche y asegure los botes de basura con sujetadores, o coloque recipientes de basura en el garaje, de modo que no atraigan animales salvajes o callejeros.
Nunca adoptes animales salvajes ni los traigas a tu hogar.
Enseñe a los niños a nunca manejar animales desconocidos, salvajes o domésticos, aunque parezcan amistosos.
Evitar que los murciélagos ingresen a viviendas o espacios ocupados en hogares, iglesias, escuelas y otras áreas similares, donde puedan entrar en contacto con personas y mascotas.
Las personas que han sido mordidas o arañadas por animales salvajes o domésticos deben buscar atención médica y reportar la lesión al Departamento de Salud de la Florida.
Rabies alert issued for Escambia and Santa Rosa Counties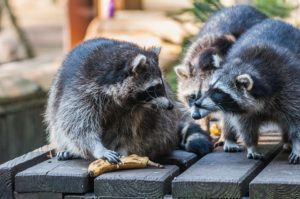 PENSACOLA and MILTON, Fla. – The Florida Department of Health in Escambia and Santa Rosa Counties have issued a rabies alert for the Bayou Chico area and City of Milton. The alert in Pensacola is in response to a report of a positive test result for rabies in a cat on May 25, 2019, after it attacked two people. This test follows a positive test on a raccoon found in the same area in January 2019. In Milton, a raccoon tested positive for rabies on May 31.
All residents and visitors in these areas should be aware that rabies is present in the wild animal population and domestic animals are at risk if not vaccinated.
The rabies alert will last for 60 days and covers the area in southern Escambia County, surrounding Bayou Chico, that lies south of West Jackson Street between New Warrington Road and Pace Boulevard and the City of Milton.
An animal with rabies could infect other wild animals or domestic animals that have not been vaccinated against rabies. All domestic animals should be vaccinated against rabies and humans should avoid all wildlife contact, especially with raccoons, bats, and foxes. Rabies is a disease of the nervous system and is usually fatal to warm-blooded animals and to humans. The only treatment for human exposure to rabies is rabies-specific immune globulin and rabies immunization. Appropriate treatment started soon after the exposure will protect an exposed person from the disease.
Residents and visitors are advised to take the following precautions:
Vaccinate pets against rabies and keep vaccinations up to date.
Keep pets under direct supervision so they do not come in contact with wild animals. If a pet is bitten by a wild animal, seek veterinary assistance for the animal immediately and contact county animal services.
Call animal control services to remove any stray animals from your neighborhood.
Bring in pet food at night and secure trash cans with fasteners, or place trash containers in the garage, so they do not attract wild or stray animals.
Never adopt wild animals or bring them into your home.
Teach children never to handle unfamiliar animals, wild or domestic, even if they appear friendly.
Prevent bats from entering living quarters or occupied spaces in homes, churches, schools, and other similar areas, where they might come in contact with people and pets.
Persons who have been bitten or scratched by wild or domestic animals should seek medical attention and report the injury to the Florida Department of Health.
[adrotate group="1"]