Estudiante de honor local nominado para el programa de líderes médicos en Boston
CRESTVIEW, Fla. — Sharon Garcia, estudiante de onceavo grado en Crestview High School, será delegada al congreso de futuros líderes médicos en Lowell, MA, del 23 al 25 de junio del 2019. El congreso es un programa exclusivo para honores para la escuela secundaria de estudiantes que quieren convertirse en médicos o entrar en campos de investigación médica. El propósito de este evento es honrar, inspirar, motivar y dirigir a los mejores estudiantes del país que aspiran a ser médicos o científicos médicos, a mantenerse fieles a sus sueños y, después del evento, a proporcionar un camino, un plan y recursos para ayúdalos a alcanzar su meta.
La carta de nominación de Sharon fue firmada por el Dr. Mario Capecchi, ganador del Premio Nobel de Medicina y Director Científico de la Academia Nacional de Futuros Médicos y Científicos Médicos para representar a la Florida en base a su logro académico, potencial de liderazgo y determinación para servir a la humanidad en el campo de la medicina.
Durante el congreso de tres días, Sharon García se unirá a estudiantes de todo el país y escuchará a los ganadores del Premio Nobel y los ganadores de la Medalla Nacional de la Ciencia hablaran  sobre la investigación médica más importante; recibir consejos de la Ivy League y los mejores decanos de las escuelas de medicina sobre qué esperar en la escuela de medicina; Historias de testigos contadas por pacientes que viven milagros médicos; dejarse inspirar por compañeros prodigios de la ciencia médica adolescente; y aprenda sobre los avances de vanguardia y el futuro en medicina y tecnología médica.
"Este es un momento crucial en Estados Unidos cuando necesitamos más médicos y científicos médicos que estén aún mejor preparados para un futuro que está cambiando de manera exponencial," dijo Richard Rossi, Director Ejecutivo, Academia Nacional de Médicos Futuros y Científicos Médicos. "Estudiantes enfocados, brillantes y decididos como Sharon Garcia son nuestro futuro y ella merece toda la tutoría y orientación que podemos brindarle."
La academia ofrece servicios y programas gratuitos a los estudiantes que desean ser médicos o estudiar ciencias médicas. Algunos de los servicios y programas que ofrece la academia son redes sociales en línea a través de las cuales los futuros médicos y científicos médicos pueden comunicarse; oportunidades para que los estudiantes sean guiados y guiados por médicos y estudiantes de medicina; y comunicaciones para padres y estudiantes sobre aceptación y finanzas universitarias, adquisición de habilidades, pasantías, orientación profesional y mucho más.  
Local honor student nominated for medical leaders' program in Boston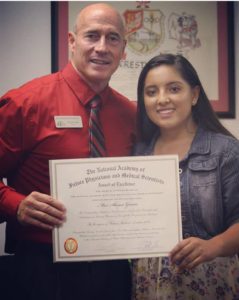 CRESTVIEW, Fla. — Sharon Garcia, an 11th grader at Crestview High School, will be a delegate to the Congress of Future Medical Leaders in Lowell, MA on June 23-25, 2019. The congress is an honors-only program for high school students who want to become physicians or go into medical research fields. The purpose of this event is to honor, inspire, motivate and direct the top students in the country who aspire to be physicians or medical scientists, to stay true to their dream and, after the event, to provide a path, plan and resources to help them reach their goal.
Sharon's nomination letter was signed by Dr. Mario Capecchi, winner of the Nobel Prize in Medicine and the Science Director of the National Academy of Future Physicians and Medical Scientists to represent Florida based on her academic achievement, leadership potential and determination to serve humanity in the field of medicine.
During the three-day congress, Sharon Garcia will join students from across the country and hear Nobel Laureates and National Medal of Science Winners talk about leading medical research; be given advice from Ivy League and top medical school deans on what to expect in medical school; witness stories told by patients who are living medical miracles; be inspired by fellow teen medical science prodigies; and learn about cutting-edge advances and the future in medicine and medical technology.
"This is a crucial time in America when we need more doctors and medical scientists who are even better prepared for a future that is changing exponentially," said Richard Rossi, Executive Director, National Academy of Future Physicians and Medical Scientists. "Focused, bright and determined students like Sharon Garcia are our future and she deserves all the mentoring and guidance we can give her."
The academy offers free services and programs to students who want to be physicians or go into medical science. Some of the services and programs the Academy offers are online social networks through which future doctors and medical scientists can communicate; opportunities for students to be guided and mentored by physicians and medical students; and communications for parents and students on college acceptance and finances, skills acquisition, internships, career guidance and much more.  
[adrotate group="1"]