Vazquez sirve en la estación de comunicaciones navales más grande del mundo
Por el especialista en comunicación de masas de 2da clase Brian T. Glunt,  Navy Office of Community Outreach
Foto de la marina de los Estados Unidos por el especialista en comunicación de masas de 2da clase Brian T. Glunt
PEARL HARBOR – La mayoría de los estadounidenses estarían de acuerdo en que las comunicaciones son una parte vital de sus vidas. Lo mismo es cierto para la marina de los Estados Unidos. En lugar de usar teléfonos inteligentes y tabletas, un grupo de navegantes estacionados en Pearl Harbor, Hawái, usan el equipo satelital y de telecomunicaciones más avanzado para compartir información vital con navegantes desplegados en todo el mundo.
Petty Officer de 2da clase John Vazquez, graduado de Gateway High School en 2001 y nativo de Pensacola, Florida, ha servido en la armada durante ocho años y está asignado a la Naval Computer and Telecommunications Area Master Station Pacific.
Como técnico de sistemas de información de la marina, Vázquez es responsable de responder a las llamadas telefónicas de las personas que tienen problemas y de las preguntas de la red de computadoras.
Vázquez atribuye el éxito en la armada a muchas de las lecciones aprendidas en Pensacola.
"Crecí en diferentes bases militares en mi juventud y aprendí a sacar lo mejor de donde sea que estés porque sabes que en tres años estarás en otro lugar," dijo Vázquez. "Ahora sí recuerdo cómo la policía militar se aseguró de que la seguridad de los miembros de la familia en el extranjero fuera muy segura."
NCTAMS Pacific es el centro de comunicaciones para la marina de los Estados Unidos en el Pacífico. Proporcionan comando, control, comunicaciones, computadoras y conectividad de inteligencia a las fuerzas navales y conjuntas desde San Diego a Singapur y más allá. NCTAMS Pacific es la estación de comunicaciones navales más grande del mundo, conocida como la "Voz de Mando del Pacífico."
Un elemento clave de la marina que necesita la nación está relacionado con el hecho de que Estados Unidos es una nación marítima, según los funcionarios de la marina, y que la prosperidad de la nación está vinculada a la capacidad de operar libremente en los océanos del mundo. Más del 70 por ciento de la superficie de la Tierra está cubierta por agua; El 80 por ciento de la población mundial vive cerca de una costa; y el 90 por ciento de todo el comercio mundial por volumen viaja por mar.
La Flota del Pacífico de los Estados Unidos es el comando de flota más grande del mundo, que abarca 100 millones de millas cuadradas, casi la mitad de la superficie de la Tierra, desde la Antártida hasta el Círculo Polar Ártico y desde la costa oeste de los Estados Unidos hasta el Océano Índico.
Estar estacionado en Pearl Harbor, a menudo referida como la puerta de entrada al Pacífico en los círculos de defensa, significa que Vázquez está sirviendo en una parte del mundo que está adquiriendo una nueva importancia en el enfoque de Estados Unidos en la reconstrucción de la preparación militar, el fortalecimiento de alianzas y la reforma de negocios. Prácticas de apoyo a la estrategia de defensa nacional.
La Armada ha sido fundamental para ayudar a mantener la paz y la estabilidad en la región del Pacífico durante décadas. El Pacífico es el hogar de más del 50 por ciento de la población mundial, muchas de las economías más grandes y pequeñas del mundo, varios de los ejércitos más grandes del mundo y muchos aliados de los EE. UU.
Si bien hay muchas maneras en que los marineros pueden obtener distinciones en su mando, comunidad y carrera, Vázquez se siente más orgulloso de ser parte de la asociación de oficiales de segunda clase en la estación aérea naval de Sigonella.
"Cuando estuve en Sicilia, formé parte de la asociación de segunda clase y nosotros, como grupo, donamos alimentos y juguetes a un orfanato local," dijo Vázquez. "Ese ha sido mi momento más orgulloso."
Servir en la marina es una tradición continua del servicio militar para Vázquez, que tiene vínculos militares con miembros de la familia que han servido anteriormente. Vázquez tiene el honor de continuar esa tradición familiar.
"Toda mi familia, de inmediato a extendida, ha servido en todas las sucursales," dijo Vázquez. "Mi familia ha servido en el ejército por muchas generaciones. Mi relación competitiva con mi hermano mayor me influyó para unirme. Se unió a uno de los campos de la carrera más difíciles solo para disuadirme de que lo superara, pero nunca lo admitiría."
Como miembro de uno de los activos más confiables de la armada de los EE. UU., Vázquez y otros navegantes saben que forman parte de un legado que perdurará más allá de sus vidas, uno que proporcionará un componente crítico de la armada que la nación necesita.
"Servir en la marina para mí significa que con orgullo puedo ponerme el uniforme y hacer del mundo un lugar mejor para todas las personas," agregó Vázquez.
Vazquez Serves at the Largest Naval Communications Station in the World
By Mass Communication Specialist 2nd Class Brian T. Glunt, Navy Office of Community Outreach
U.S. Navy photo by Mass Communication Specialist 2nd Class Brian T. Glunt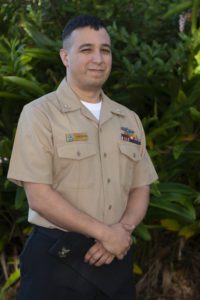 PEARL HARBOR – Most Americans would agree that communications are a vital part of their lives. The same is true for the U.S. Navy. Instead of using smart phones and tablets, a group of sailors stationed in Pearl Harbor, Hawaii, use the most-advanced satellite and telecommunications equipment to share vital information with sailors deployed around the world.
Petty Officer 2nd Class John Vazquez, a 2001 Gateway High School graduate and native of Pensacola, Fla., has served in the Navy for eight years and is assigned to Naval Computer and Telecommunications Area Master Station Pacific.
As a Navy information systems technician, Vazquez is responsible for answering and responding to phone calls for people who are having issues and for network computer questions.
Vazquez credits success in the Navy to many of the lessons learned in Pensacola.
"I grew up in many different military bases in my youth and I learned to make the best out of wherever you are because you know in three years you will be someplace else," said Vazquez. "Now, I do remember how the military police made sure safety of family members overseas was very secure."
NCTAMS Pacific is the center of communications for the U.S. Navy in the Pacific. They provide command, control, communications, computers and intelligence connectivity to Naval and Joint forces from San Diego to Singapore and beyond. NCTAMS Pacific is the largest naval communications station in the world, known as the "Pacific Voice of Command."
A key element of the Navy the nation needs is tied to the fact that America is a maritime nation, according to Navy officials, and that the nation's prosperity is tied to the ability to operate freely on the world's oceans. More than 70 percent of the Earth's surface is covered by water; 80 percent of the world's population lives close to a coast; and 90 percent of all global trade by volume travels by sea.
The U.S. Pacific Fleet is the world's largest fleet command, encompassing 100 million square miles, nearly half the Earth's surface, from Antarctica to the Arctic Circle and from the West Coast of the United States into the Indian Ocean.
Being stationed in Pearl Harbor, often referred to as the gateway to the Pacific in defense circles, means that Vazquez is serving in a part of the world that is taking on new importance in America's focus on rebuilding military readiness, strengthening alliances, and reforming business practices in support of the National Defense Strategy.
The Navy has been pivotal in helping maintain peace and stability in the Pacific region for decades. The Pacific is home to more than 50 percent of the world's population, many of the world's largest and smallest economies, several of the world's largest militaries, and many U.S. allies.
Though there are many ways for sailors to earn distinction in their command, community, and career, Vazquez is most proud of being a part of the second class petty officer association at Naval Air Station Sigonella.
"When I was stationed in Sicily I was a part of the association of second classes and we, as a group, donated food and toys to a local orphanage," said Vazquez. "That's been my proudest moment."
Serving in the Navy is a continuing tradition of military service for Vazquez, who has military ties with family members who have previously served. Vazquez is honored to carry on that family tradition.
"All of my family, from immediate to extended, have served in all branches," said Vazquez. "My family has served in the military for many generations. My competitive relationship with my older brother influenced me to join. He joined in one of the toughest career fields just to deter me from one upping him, but he'd never admit that."
As a member of one of the U.S. Navy's most relied upon assets, Vazquez and other sailors know they are part of a legacy that will last beyond their lifetimes, one that will provide a critical component of the Navy the nation needs.
"Serving in the Navy to me means that with pride I can put on the uniform and make the world a better place for all people," added Vazquez.
[adrotate group="1"]