Ciclovia regresa por tercer año en el centro de Penacola
PENSACOLA, Fla. – La tercera Ciclovía Anual Calles Abiertas de Pensacola regresa al centro de Pensacola el sábado, el 23 de marzo, con una expansión en la Palafox St.
El pasado marzo 12.000 personas se congregaron en el centro de la ciudad para Ciclovia, parte de un movimiento internacional único que cierra las calles del centro al tráfico motorizado y las abre para la diversión comunitaria activa. Este evento fomenta y promueve la actividad física segura con otros participantes mientras ofrece la rara oportunidad de caminar, correr y patinar las calles del centro, sin tener que esquivar los automóviles. La gente puede conocer y disfrutar de Pensacola mientras caminan, montan en bicicleta, corren, patinan y se reúnen con amigos y familia sin tener que preocuparse del tráfico.
De las 9 a.m. hasta las 2 p.m., desde la Plaza de Luna hasta la Garden St, la Palafox St estará cerrada al tráfico automovilístico y estará abierta a ciclistas, peatones, corredores, monopatinadores, y más.
"A todos los niños, les encanta jugar en la calle así como los adultos," exclamó el jefe Rand Hicks. "Ciclovía se trata de reunir a la gente de una manera única para que todos puedan divertirse, mantenerse en buena salud y disfrutar de Pensacola, creciente y diversa, Música, vendedores y eventos divertidos se encontrarán por el lugar, incluidos un sitio para los niños en La Plaza de Luna, exámenes de salud y más. Todas las actividades organizadas por Ciclovía son gratis.
Los objetos primarios incluyen promover la salud pública, impulsar nuestra economía local, reducir la contaminación y mostrar el centro como un espacio agradable para la gente y un modelo por hacer ejercicio y reducirr la dependencia de los coches.
"La reinvención del centro de Pensacola urbano como sitio "cool" está creciendo," dijo Hicks. "Lo que es sorprendente ahora es el ritmo rápido de desarrollo residencial que refleja una tendencia nacional.  Eventos como Ciclovía muestran la importancia de mantener el foco del centro en la gente que patrocinan los negocios, viven en sus casas y apartamentos, y que disfrutan de su amibiente."
Una estimación de 12,000 personas disfrutaba de Ciclovía el año pasado, un aumento de 20% del primer evento del 2017.  Los organizadores esperan un aumento similar este año.
El año pasado, según los datos de la encuesta de la University of West Florida y Visit Pensacola, 56 % de los encuestados descubrió una tienda nueva o restaurante, contribuyeron $567,000 en gastos, y gastaron un promedio de $46.76.
"Somos afortunados tener líderes comunitarios, tanto en el sector público como en el privado, que ayudan a que esto sea posible," dijo Hicks. "Estamos agradecidos al alcalde Robinson,y a City of Pensacola Parks & Recreation, por su apoyo entusiasta. Se necesita mucho apoyo de la ciudad de empresas locales que donan dinero y servicios, agencias gubernamentales que participan, y de las docenas de voluntarios haciendo el trabajo diario.
"El socio principal de este año es Humana.  El soporte substancial también viene de WUWF, Dasani, WEAR-TV, Cat Country, Boyett's Portable Toilets, City of Pensacola Parks & Recreation, Visit Pensacola, the Florida Department of Health en Escambia County, RideOn, y el Pensacola Community Action Network.
"La participación de nuestros dos primeros eventos mostró claro que a las personas, les encanta este evento," dijo Hicks.  "El centro de Pensacola es un lugar a donde la gente quiere estar, y les encanta divertirse en caminar o montar en bicicleta en una calle segura. Y quieren más eventos, no menos.  Entonces deseamos reunir a la gente en los eventos de Ciclovía en el futuro.
Para mantenerse actualizado en Ciclovia 2019 y aprender más sobre PensacolaOpenStreets, consulten PensacolaOpenStreet.com o busquen  nuestras páginas de Facebook e instagram, @PensacolaOpenStreets. Envíenos un correo electrónico a Ciclovía Pensacola@gmail.com  
Ciclovia Returns for Third Year in Downtown Pensacola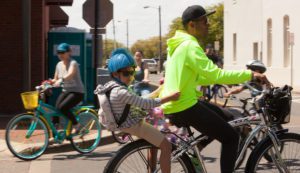 PENSACOLA, Fla. – The Third Annual Ciclovia in Pensacola Open Streets returns to downtown Pensacola Saturday, March 23, with an expansive footprint on Palafox Street.
Last March 12,000 people crowded the downtown core for Ciclovia, part of a unique international movement that closes downtown streets to motorized traffic and opens them up for active community fun. This event encourages and promotes safe physical activity with others while offering the rare opportunity to walk, ride, run, and skate downtown streets — without having to dodge automobiles.
From 9 a.m. to 2 p.m. Palafox Street, from Plaza de Luna to Garden Street, will close to motorized vehicles and open to bicyclists, pedestrians, runners, strollers, skateboarders and more.
"Every kid loves to play in the street, and so do adults," said Ciclovia chairman Rand Hicks. "Ciclovia is about coming together to celebrate having fun, moving our bodies in a healthful way, and experiencing downtown in a unique fashion — without having to watch for cars. Ciclovia provides a safe place to enjoy our beautiful, growing, and diverse community with our neighbors, wherever they happen to live."
Music, vendors and fun events will be staged around the area, including a Kids Area at Plaza de Luna, health screenings and more. All of the activities organized by Ciclovia are free.
The primary goals include promoting public health, boosting our local economy, reducing pollution, and showcasing downtown as a people-friendly space and a model for getting out of our cars and exercising.
"The reinvention of downtown Pensacola as a cool urban center is gaining momentum," said Hicks. "What's striking now is the fast pace of residential development, which reflects the national trend. Events like Ciclovia underscore the importance of keeping downtown focused on the people who support its businesses, live in its homes and apartments, and who enjoy its ambiance."
An estimated 12,000 people attended Ciclovia last year, up 20 percent from the first event in 2017. Organizers expect a similar jump this year.
Last year, according to survey data from the University of West Florida and Visit Pensacola, 56 percent of respondents discovered a new store or restaurant; contributed $567,000 in spending; and spent an average of $46.76.
"We are fortunate to have community leaders, both in the public and private sectors, who help make this possible," Hicks said. "We're grateful to Mayor Robinson, the City of Pensacola, and Parks & Recreation for their enthusiastic support. It takes a lot of support from the City, from local businesses who donate money and services, government agencies who participate, and from dozens of volunteers doing hands-on work."
This year's primary partner is Humana. Substantial support also comes from WUWF, Dasani, WEAR-TV, Cat Country, Boyett's Portable Toilets, the City of Pensacola, Pensacola Parks & Recreation, Visit Pensacola, the Florida Department of Health in Escambia County, RideOn, and the Pensacola Community Action Network.
"The turnout for our first two events made it clear that people embrace this event," Hicks said. "Downtown Pensacola is a place people want to be, and they love to have fun walking or riding a bike on a safe street. And they want more events, not fewer, so we look forward to bringing people together at Ciclovia events in the future."
To stay updated on Ciclovia 2018 and learn more about PensacolaOpenStreets, go to PensacolaOpenStreets.com or check our Facebook and Instagram pages, @PensacolaOpenStreets. Email us at PensacolaOpenStreets@gmail.com.  
[adrotate group="1"]