El gran tiburón blanco Miss Costa dio señal (ping) en el Golfo de México cerca de Panhandle
Por Jacob Newby, Cortesía de Pensacola News Journal, publicado el 15 de abril de 2019
Casi un año después de que un gran tiburón blanco llamado Hilton hiciera una visita rara a la zona de Pensacola, las aguas de la Costa del Golfo ahora han sido adornadas por Miss Costa, en un gran tiburón blanco hembra de 1,668 libras.
El tiburón subadulto de 12 pies y 5 pulgadas "dio señal" cerca de Big Bend en el area del Golfo de México a las 10:34 a.m. del lunes, según OCEARCH, una gran organización internacional de investigación de tiburones blancos.
Una señal o "ping" se determina cuando el extremo dorsal del tiburón etiquetado rompe la superficie del agua y transmite una señal a la sobrecarga de un satélite, de acuerdo con el sistema de seguimiento de OCEARCH. La transmisión luego envía una geolocalización estimada.
Si bien no es inusual que una persona entre al golfo, es raro obtener una señal de un tiburón etiquetado en el golfo, según el News Journal.
Miss Costa fue originalmente etiquetada por los investigadores de OCEARCH el 23 de septiembre de 2016 en Nantucket, Massachusetts. Ella ha viajado casi 12,400 millas en los últimos 103 días, según el sitio web de OCEARCH.
Una aparente fanática de pasar sus vacaciones de primavera en la Florida, Miss Costa dio señal cerca de Treasure Coast de Florida, alrededor de los Cayos de Florida y al norte de Tampa a principios de abril.
En su cuenta de Twitter, que tiene más de 9,700 seguidores, Miss Costa bromeó el domingo por la noche al ver "Game of Thrones" frente a la costa de Panhandle, cerca de Panama City.
Miss Costa fue nombrada en honor al socio de OCEARCH, Costa Sunglasses, según un comunicado en el sitio web de la compañía.
Miss Costa no es la única celebridad que visita el Panhandle en los últimos años.
Hilton es un tiburón blanco macho de 1.326 libras, estaba ubicado en el Golfo de México, al sur de Navarre, a fines de abril de 2018.
Savannah, una tiburón hembra de 8 pies 6 pulgadas y 460 libras, rodeó la península de la Florida en enero de 2018 antes de que ella ingresara en el Golfo de México.
Great white shark Miss Costa pings in Gulf of Mexico near Panhandle
By Jacob Newby, Courtesy of Pensacola News Journal, Published April 15, 2019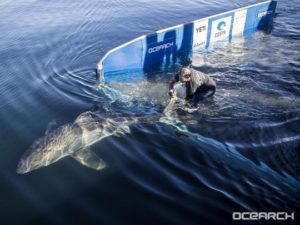 Almost one year after a great white shark named Hilton made a rare visit to the Pensacola area, the Gulf Coast waters have now been graced by Miss Costa, a 1,668-pound female great white shark.
The 12-foot, 5-inch sub-adult shark "pinged" near the Big Bend area of the Gulf of Mexico at 10:34 a.m. Monday, according to OCEARCH, an international great white shark research organization.
A "ping" is determined when the tagged shark's dorsal fin breaks the surface of the water and transmits a signal to a satellite overhead, according to OCEARCH's tracking system. The transmission then sends back an estimated geolocation.
While it isn't unusual for great whites to enter the Gulf, it is rare to get a ping from a tagged shark in the Gulf, researchers previously told the News Journal.
Miss Costa was originally tagged by OCEARCH researchers on Sept. 23, 2016, in Nantucket, Massachusetts. She has traveled nearly 12,400 miles in the last 103 days, according to OCEARCH's website.
An apparent fan of spending her spring break in Florida, Miss Costa pinged near Florida's Treasure Coast, around the Florida Keys and just north of Tampa in early April.
On her Twitter account — which has more than 9,700 followers —  Miss Costa joked Sunday night that she watched "Game of Thrones" just off the Panhandle coast near Panama City.
Miss Costa was named after OCEARCH's longtime partner, Costa Sunglasses, according to a statement on the company's website.
Miss Costa isn't the only celebrity shark to visit the Panhandle in recent years.
Hilton, a 1,326-pound male white shark, was located in the Gulf of Mexico just south of Navarre in late April 2018.
Savannah, an 8-foot-6-inch, 460-pound female shark, rounded the Florida peninsula on in January 2018 before she entered the Gulf of Mexico.
[adrotate group="1"]