El Mr. Pollo Pensacola ahora está abierto y sirve pollo asado a fuego lento en North Ninth Avenue
Por Jacob Newby, Cortesía de Pensacola News Journal, publicado el 17 de abril de 2019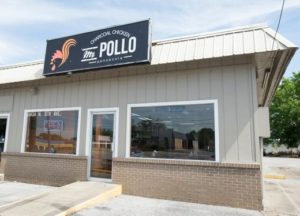 PENSACOLA, Fla. – Un nuevo restaurante rápido e informal en Pensacola promete platear algunos de los pollos más jugosos y tiernos que haya comido, gracias a su enfoque único en la cocina.
Eduardo y Maria Arraez, dueños de la familia Pollo Pensacola en 6404 N. Ninth Ave., preparan pollo recién marinado, rostizado lento cocinado en un horno de carbón estilo asado justo detrás del mostrador.
"Esto es algo nuevo para la ciudad, no ves nada más por aquí o en el Panhandle," dijo Eduardo Arraez. "Es comida rápida, pero es comida casera al mismo tiempo. Cuando vienes aquí no tienes que esperar 20 o 25 minutos para una comida."
La pareja de origen venezolano abrió su nuevo restaurante el 8 de abril. El Sr. Pollo Pensacola reemplaza a SteakAway en North Ninth, pero ofrece un servicio similar, rápido y basado en el traspaso de clientes, en esa área, cerca de una concurrida intersección de Creighton Road. 
Mr. Pollo Pensacola now open, serving slow roasted charcoal chicken on North Ninth Avenue
By Jacob Newby, Courtesy of Pensacola News Journal, Published April 17, 2019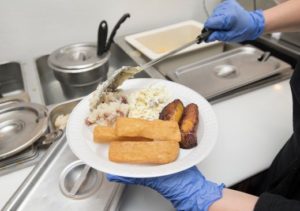 PENSACOLA, Fla. – A new fast-casual restaurant in Pensacola promises to plate some of the juiciest, most tender chicken you've ever had, thanks to their unique approach in the kitchen.
Eduardo and Maria Arraez, owners of the family-run Mr. Pollo Pensacola on 6404 N. Ninth Ave., prepare freshly marinated, slow roasted chicken cooked in a rotisserie-style charcoal oven right behind the front counter.
"This is something new for the town, you don't see anything else around here or in the Panhandle at all," said Eduardo Arraez. "It's fast food but it's homemade food at the same time. When you come here you don't have to wait 20, 25 minutes for a meal."
The Venezuelan-born couple opened their new restaurant on April 8. Mr. Pollo Pensacola replaces the SteakAway on North Ninth but brings a similar quick, carryout-based service ingrained in customers in that area near a busy intersection off of Creighton Road.
[adrotate group="1"]