El evento de la ciudad de recompra armas termina antes de lo esperado
PENSACOLA, Fla. – El evento de la ciudad de Pensacola de recompra de armas el 20 de marzo terminó temprano cuando los $10,000 en fondos disponibles para comprar las armas de los participantes voluntarios al evento se agotaron alrededor de las 9:30 a.m. El evento originalmente estaba programado para durar hasta las 2 pm en el parque Bill Gregory ubicado en 150 N. W St. en Pensacola.
El objetivo del evento era reducir la disponibilidad de armas no deseadas dentro de la comunidad, brindar la oportunidad de deshacerse de las armas de fuego de manera segura y crear conciencia dentro de la comunidad con la esperanza de cambiar la cultura para reducir la cantidad de incidentes relacionados con armas de fuego. A través del evento de recompra de armas, las personas pudieron entregar armas de fuego funcionales y operativas y recibir un pago en efectivo por su arma de fuego.
El evento se llevó a cabo a pedido del Concejal de la Ciudad del Distrito 7 Delarian Wiggins, con la aprobación del Concejo Municipal de Pensacola y con la identificación de fondos por parte del Alcalde Grover Robinson.
City gun buyback event ends earlier than expected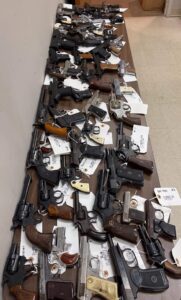 PENSACOLA, Fla. – The City of Pensacola's gun buyback event on March 20 ended early when all of the available $10,000 funding was used to purchase guns from voluntary participants at the event by about 9:30 a.m. The event was originally scheduled to last until 2 p.m. at the Bill Gregory Park located at 150 N. W St. in Pensacola.
The goal of the event was to reduce the availability of unwanted guns within the community, provide the opportunity for safe disposal of firearms, and to raise awareness within the community in hopes of shifting the culture to reduce the number of firearm related incidents. Through the Gun Buyback Event, individuals were able to turn in functional and operational firearms and receive a cash payment for their firearm.
The event was held at the request of District 7 City Councilman Delarian Wiggins, with the approval of the Pensacola City Council and with the identification of funding by Mayor Grover Robinson. 
[adrotate group="1"]