Comienzan los cierres de carriles en West Cervantes Street
PENSACOLA, Fla. – El Departamento de Transporte de Florida anunció que los conductores encontrarán cierres intermitentes de carriles interiores en la calle West Cervantes, entre la calle Dominguez y la calle A durante el 2021.
Los cierres de carriles comenzarán en el extremo oeste del proyecto en la calle Domínguez y variarán en longitud para permitir que las cuadrillas realicen trabajos de mejora a la mediana. Siempre habrá un carril abierto en cada dirección. El trabajo de la mediana y los cierres de carriles avanzarán hacia el este hasta fin de año.
El trabajo es parte de un proyecto de construcción de $7 millones para mejorar la seguridad de los peatones a lo largo de una sección de 2.2 millas de la calle West Cervantes, desde la calle Dominguez hasta la calle A. Las mejoras planificadas incluyen la construcción de siete cruces peatonales iluminados a mitad de cuadra, rampas que cumplen con la ADA y un camino de usos múltiples más amplio. Se agregarán nuevos semáforos en cuatro intersecciones y los semáforos existentes se mejorarán con características mejoradas para peatones.
Se estima que el trabajo se completará a principios de 2022.
Lane Closures begin on West Cervantes Street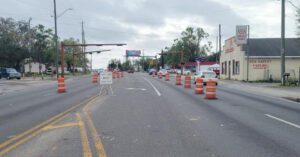 PENSACOLA, Fla. – The Florida Department of Transportation announced drivers will encounter intermittent inside lane closures on West Cervantes Street, between Dominguez Street and A Street through 2021.
The lane closures will begin on the west end of the project at Dominguez Street and vary in length to allow crews to perform median improvement work.  One lane in each direction will be always open. The median work and lane closures will progress eastward until the end of the year.
The work is part of a $7 million construction project to improve pedestrian safety along a 2.2-mile section of West Cervantes Street, from Dominguez Street to A Street. Planned improvements include constructing seven lighted midblock crosswalks, ADA-compliant ramps, and a wider multi-use path. New traffic signals will be added at four intersections and existing signals will be enhanced with upgraded pedestrian features.
The work is estimated for completion in early 2022. 
[adrotate group="1"]