Bomberos del condado de Escambia ofrecen un nuevo puesto de bombero a nivel de entrada pagado
CONDADO DE ESCAMBIA, Fla. – El Cuerpo de Bomberos del Condado de Escambia anunció una nueva oportunidad pagada para el combate de incendios a nivel de entrada para los cadetes de bomberos. Mientras asisten a la academia de bomberos, los cadetes recibirán capacitación en el trabajo, un salario y un conjunto completo de beneficios del condado.
Los cadetes asistirán a clases de la Academia de Bomberos y otros programas formales de capacitación para prepararlos para la certificación estatal como bombero de carrera. Esto también incluye participar en simulacros de entrenamiento contra incendios y observar las llamadas de emergencia al igual las que no son de emergencia.
"Hay muchas oportunidades excelentes con ECFR en este momento", dijo el jefe de bomberos interino Paul Williams. "Buscamos bomberos voluntarios y profesionales. El programa de cadetes proporciona un camino para capacitarse y recibir compensación y beneficios. Es lo mejor de ambos mundos."
A los cadetes de bomberos se les asigna un año desde el momento del empleo para completar la capacitación estándar mínima y obtener la certificación de Bombero II requerida con el Estado de Florida. Los titulares ascienden de cadete a bombero al completar el curso y aprobar el examen estatal.
Las solicitudes para el puesto de cadete de bomberos del condado de Escambia están disponibles en línea. La información sobre las posiciones vacantes con el condado están disponible en myescambia.com/joinfire.
Escambia County Fire offers new, paid entry-level firefighting position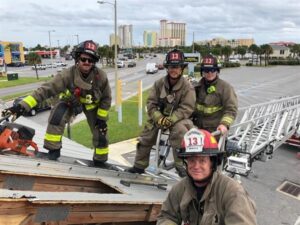 ESCAMBIA COUNTY, Fla. – Escambia County Fire Rescue announced a new paid entry-level firefighting opportunity for fire cadets. While attending the fire academy, cadets will receive on-the-job training, a salary and a full suite of county benefits.
Cadets will attend Fire Academy classes and other formal training programs to prepare them for state certification as a career firefighter. This also includes participating in fire training drills and observing emergency and non-emergency responses.
"There are a lot of great opportunities with ECFR right now," said Interim Fire Chief Paul Williams. "We're looking for volunteer and career firefighters. The cadet program provides a path to get training and receive compensation and benefits. It's the best of both worlds."
Fire cadets are allotted one year from time of employment to complete minimum standard training and obtain the required Firefighter II certification with the State of Florida. Incumbents promote from cadet to firefighter upon completion of the course and passing the state test.
Applications for an Escambia County Fire Cadet position are available online. Information about firefighting openings with the county is available at myescambia.com/joinfire. 
[adrotate group="1"]