Dinosaurios en el estadio Hank Aaron
MOBILE, Ala. – Un evento de Aventura de dinosaurios está programado en el Estadio Hank Aaron del 29 de enero al 14 de febrero. La aventura prehistórica de drive-thru incluye 80 exhibiciones de dinosaurios de tamaño real que los visitantes pueden ver desde sus propios vehículos.
El recorrido incluye un t-rex de 40 pies, un braquiosaurio de 30 pies, un triceratops, un velociraptor y más. Todos los vehículos seguirán la misma ruta de ida a través del evento.
Los precios están disponibles en dinosauradventure.com/mobile y comienzan en $49 por vehículo. Todas las entradas son limitadas y válidas para un vehículo de hasta 8 personas. Los vehículos no deben tener más de 20 pies de largo y 8 pies de alto.
Dinosaurs at Hank Aaron Stadium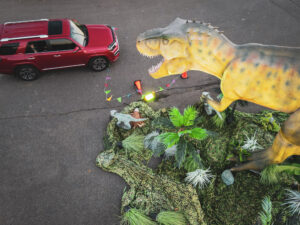 MOBILE, Ala. – A Dinosaur Adventure event is scheduled at the Hank Aaron Stadium from January 29 through February 14. The prehistoric drive-thru adventure includes 80 life-sized dinosaur exhibits which visitors can see from their own vehicles.
The tour includes a 40-foot t-rex, 30-foot brachiosaurus, triceratops, velociraptor and more. All vehicles will follow the same one-way route through the event.
Prices are available at  dinosauradventure.com/mobile and start at $49 per vehicle. All tickets are limited and are valid for one vehicle of up to 8 people. Vehicles must be no bigger than 20 feet long and 8 feet tall.
[adrotate group="1"]