Comienza el proyecto de seguridad peatonal de la calle West Cervantes
PENSACOLA, Fla. – El Departamento de Transporte de Florida (FDOT) comenzará este mes un proyecto de construcción de $ 7 millones para mejorar la seguridad de los peatones a lo largo de una sección de 2.2 millas de West Cervantes Street, desde Dominguez Street hasta A Street en Pensacola.
El FDOT ofrece una actualización del proyecto virtualmente en línea en http://nwflroads.com/projects/443-769-1. Hay mapas, dibujos y mucha más información disponible que se puede acceder en cualquier momento y lugar. La fecha límite para enviar comentarios relacionados con el proyecto será el lunes 8 de febrero de 2021.
Las mejoras planificadas a lo largo de West Cervantes Street incluyen la construcción de siete cruces peatonales iluminados a mitad de cuadra, rampas que cumplen con la ADA y un camino de usos múltiples más amplio. Se agregarán nuevas señales de tráfico en cuatro intersecciones y las señales existentes se mejorarán con características mejoradas para los peatones.
Se reducirán los anchos de los carriles para vehículos y el límite de velocidad se reducirá a 30 mph. Se construirá una mediana central elevada con una barrera baja y aberturas designadas para peatones en ubicaciones seleccionadas dentro de los límites del proyecto. El proyecto también incluye mejoras en la iluminación, el paisajismo y el riego. Además, las cuadrillas fresarán y volverán a pavimentar la carretera donde se realizan trabajos de mediana y señalización.
Las actividades de construcción requerirán cambios de tráfico y cierres de carriles que se limitarán a ser de 8 p.m. a  6 a.m. El trabajo se secuenciará para permitir el acceso peatonal continuo entre las intersecciones señalizadas en al menos un lado de la calle West Cervantes. Se estima que el trabajo se completará a principios de 2022. La financiación del proyecto es un esfuerzo de colaboración entre la ciudad de Pensacola, el condado de Escambia y el FDOT.
West Cervantes Street pedestrian safety project to begin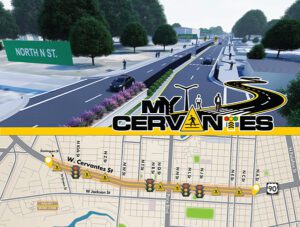 PENSACOLA, Fla. – The Florida Department of Transportation (FDOT) will begin a $7 million construction project this month to improve pedestrian safety along a 2.2-mile section of West Cervantes Street, from Dominguez Street to A Street in Pensacola.
FDOT provides a Virtual Project Update online at http://nwflroads.com/projects/443-769-1. Maps, drawings, and other information are available and can be accessed anytime, anywhere. The deadline for submitting comments related to the project will be Monday, Feb. 8, 2021.
Planned improvements along West Cervantes Street include constructing seven lighted midblock crosswalks, ADA-compliant ramps and a wider multi-use path. New traffic signals will be added at four intersections and existing signals will be enhanced with upgraded pedestrian features.
Vehicle lane widths will be reduced, and the speed limit will be lowered to 30 mph.  A raised center median with a low barrier and designated openings for pedestrians at selected locations will be constructed within the project limits. The project also includes enhanced lighting and landscaping and irrigation improvements. In addition, crews will mill and resurface the roadway where median and signal work is performed.
The construction activities will require traffic shifts and lane closures that will be limited to 8 p.m. to 6 a.m. The work will be sequenced to allow continuous pedestrian access between signalized intersections on at least one side of West Cervantes Street.
The work is estimated for completion in early 2022. Funding for the project is a collaborative effort between the City of Pensacola, Escambia County and FDOT.