Pensacon pospone la convención de 2021
PENSACOLA, Fla. – Pensacon anunció el aplazamiento de su convención de cultura pop de 2021 debido a la pandemia de COVID-19.
"La seguridad, protección y salud de nuestros asistentes, invitados, expositores, personal y voluntarios es de suma importancia para nosotros," dijo Mike Ensley, fundador y director ejecutivo de Pensacon. "Después de las discusiones con nuestros equipos del lugar, expositores, creadores, invitados y fanáticos, hemos decidido posponer. Como factor adicional, numerosas celebridades deben viajar de todas partes y no podrán participar debido a restricciones de viaje. Como tal, no vemos una manera de avanzar que permita que Pensacon ocurra de manera segura en febrero."
Originalmente programada del 26 al 28 de febrero, la reunión de cultura pop más importante de Pensacola regresará más tarde en 2021. El personal de Pensacon está trabajando actualmente con todos los socios para asegurar nuevas fechas, que se anunciarán lo antes posible.
"Pensacon es para Pensacola," dijo Ensley. "Estamos continuamente agradecidos por la feroz pasión y lealtad de nuestros increíbles fanáticos, exhibidores, artistas y nuestra comunidad. Te mereces una celebración digna de tu passion."
Los boletos comprados se transferirán automáticamente a las fechas reprogramadas. Los boletos también se pueden transferir a Pensacon 2022. Los poseedores de boletos actuales de 2021 recibirán un regalo exclusivo de edición limitada.
Se pueden encontrar más información y actualizaciones en pensacon.com y las páginas de Facebook e Instagram de Pensacon.
Pensacon postpones 2021 convention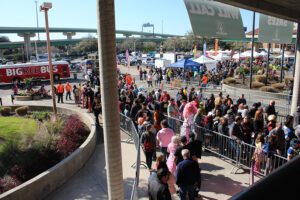 Pensacola, Fla. — Pensacon announced the postponement of its 2021 pop culture convention due to the COVID-19 pandemic.
"The safety, security and health of our attendees, guests, exhibitors, staff and volunteers is of the utmost importance to us," said Mike Ensley, founder and CEO of Pensacon. "After discussions with our venue teams, exhibitors, creators, guests and fans, we have decided to postpone. As an additional factor, numerous celebrities must travel from all over, and will not be able to participate due to travel restrictions. As such we do not see a way to move forward that would allow Pensacon to happen safely in February."
Originally set for Feb. 26-28, Pensacola's premier pop culture gathering will return later in 2021. Pensacon staff is currently working with all partners to secure new dates, which will be announced as soon as possible.
"Pensacon is for Pensacola," Ensley said. "We are continually grateful for the fierce passion and loyalty of our amazing fans, exhibitors, artists and our community. You deserve a celebration worthy of your passion."
Purchased tickets will automatically roll over to the rescheduled dates. Tickets can also be rolled over to Pensacon 2022. Current 2021 ticket holders will receive an exclusive, limited-edition gift.
Further information and updates can be found at pensacon.com and the Pensacon Facebook and Instagram pages.
[adrotate group="1"]