David Alexander se reúne con votantes latinos
El 16 de junio, el ex jefe de policía de Pensacola y candidato para el Sheriff del Condado de Escambia, David Alexander, habló con un grupo de votantes para presentar su posición sobre asuntos locales. En su presentación, Alexander discutió la implementación de sus 32 años de experiencia policial para reclutar y entrenar oficiales y mantener una moral positiva.
La mayoria de los asistentes eran votantes latinos, varios expresaron su preocupación por la seguridad de los inmigrantes en el Condado de Escambia y por mejorar la relación con la oficina del sheriff. Alexander habló de su conocimiento de estas y otras preocupaciones de las minorías en el condado.
"Todos deben ser tratados con dignidad y respeto," dijo Alexander.
Alexander contactó a la comunidad latina con la esperanza de reclutar oficiales hispanos y latinos antes de su retiro del departamento de policía de la ciudad en 2017. Espera revivir esos esfuerzos como sheriff del condado.
David Alexander se postula contra Chip Simmons para el puesto del sheriff en noviembre.
David Alexander meets with Latino voters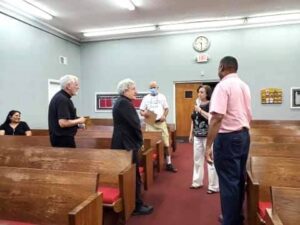 On June 16, former Pensacola Police Chief and candidate for Escambia County Sheriff David Alexander spoke to a group of voters to present his position on local issues. In his presentation, Alexander discussed implementing his 32 years of policing experience to recruit and train officers and maintain a positive morale.
Most of the attendees were Latino voters, several expressed concern for the safety of immigrants in Escambia County and improving the relationship with the sheriff's office. Alexander spoke of his awareness of these and other concerns of minorities in the county.
"Everyone should be treated with dignity and respect," Alexander said.
Alexander reached out to the Latino community in hopes to recruit Latino and Spanish speaking officers prior to his retirement from the city police department in 2017. He hopes to revive those efforts as county sheriff.
David Alexander is running against Chip Simmons for the sheriff's position this November.
[adrotate group="1"]