Cobertores faciales requeridos en negocios dentro de los límites de la ciudad a partir del 26 de junio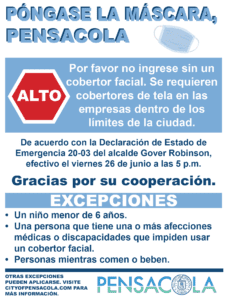 PENSACOLA, Fla. – El alcalde Grover Robinson emitió la Declaración de Estado de Emergencia 20-03 efectiva a las 5 p.m. hoy, viernes 26 de junio, que exige que los empleados y clientes usen cobertores faciales dentro de las empresas dentro de los límites de la Ciudad de Pensacola.
Esta orden es en respuesta al rápido aumento de los casos de COVID-19 en el área de Pensacola y de acuerdo con el reciente Aviso de Salud Pública emitido por el Médico General del Estado, junto con la recomendación de los Centros para el Control y la Prevención de Enfermedades (CDC) de que los cobertores faciales de tela sean usados en lugares públicos donde el distanciamiento social es difícil de mantener.
"Nuestra principal prioridad en la ciudad de Pensacola es la salud y la seguridad de nuestros ciudadanos, y tenemos que tomar medidas para proteger a nuestra comunidad durante estos tiempos sin precedentes," dijo el alcalde Robinson. "Usar una máscara es un paso simple que todos podemos tomar para ayudar a prevenir la propagación de COVID-19 y, en última instancia, ayudar a nuestra comunidad y economía a recuperarse más rápidamente. Es importante recordar que usted puede propagar el COVID-19 incluso si no se siente enfermo. Usar una máscara no es una señal de miedo o egoísmo, sino más bien una señal de amabilidad y desinterés, ya que su máscara podría proteger a otros de enfermarse."
Esta orden se aplica a los límites de la Ciudad de Pensacola e incluye lo siguiente:
Una persona en una empresa debe cubrirse la cara mientras se encuentra en un establecimiento comercial.
Todas las personas que poseen, administran o están empleadas por un negocio ubicado en la ciudad deben usar una cubierta facial mientras están de servicio y tener contacto directo o indirecto con el cliente, incluidas las personas que trabajan en la cocina o que de otra manera preparan o sirven alimentos o bebidas para clientes.
Cada negocio debe publicar carteles que notifiquen a las personas sobre el requisito de usar un cobertor facial según lo dispuesto en esta orden. Los letreros PDF imprimibles están disponibles en línea, o las empresas pueden crear su propia señalización:
¿Qué se considera un cobertor facial?
Un cobertor facial es un material que cubre la nariz y la boca y que se ajusta perfectamente a los lados de la cara para que no haya espacios. Se puede asegurar a la cabeza con corbatas o correas o simplemente envolver alrededor de la cara inferior. Puede estar hecho de una variedad de materiales, como algodón, seda o lino. Se recomienda encarecidamente revestimientos con materiales hechos de múltiples capas. Una cubierta de tela para la cara se puede fabricar o coser a mano, o la cubierta de tela se puede improvisar con artículos del hogar.
Para obtener información adicional sobre cómo hacer, usar y lavar un paño que cubre la cara, visite el sitio web del CDC.
Excepciones
Esta orden no se aplica a:
Un niño menor de 6 años.
Una persona que tiene una o más afecciones médicas o discapacidades que impiden usar un cobertor facial, incluida cualquier persona que tenga problemas para respirar o que esté inconsciente, incapacitado o que de otra manera no pueda quitarse el cobertor facial sin ayuda. No se requiere que una persona que hace valer esta excepción por afecciones médicas o discapacidades lleve o presente documentación que verifique la afección médica a una empresa o oficial de la ley.
Una persona que se está comunicando con una persona con discapacidad auditiva que necesita ver la boca de la persona que habla para facilitar la comunicación.
Una persona que está obteniendo un servicio que involucra la nariz o la cara para la cual es necesaria la eliminación temporal del cobertor facial para realizar el servicio.
Seguridad pública, policía, bomberos y otro personal de salud y seguridad de la vida cuyos requisitos de equipo de protección personal se rigen por sus respectivas agencias.
Una persona en un edificio del gobierno federal, estatal o del condado de Escambia.
Una persona que hace ejercicio mientras observa al menos 6 pies de distanciamiento de otras personas.
Personas mientras comen o beben. Es la intención de esta disposición que se use un cobertor facial mientras se atraviesa un negocio para entrar y salir, para usar las instalaciones del baño y pararse cuando las personas no pueden mantener al menos 6 pies de distancia.
Propietarios, gerentes y empleados de negocios que se encuentran en un área de un negocio que no está abierta a clientes o al público, siempre que exista una distancia de 6 pies entre las personas. Esta excepción no se aplica a los empleados que están presentes en la cocina u otra área de preparación de alimentos y bebidas de un negocio; esas personas deben usar cobertores faciales.
Una persona en un establecimiento de alojamiento que está dentro de la unidad de alojamiento, que incluye, entre otros, una habitación de hotel, habitación de motel, unidad de alquiler de vacaciones, unidad de tiempo compartido o unidad similar.
Nada en este orden requerirá o permitirá que una persona use una máscara para ocultar la identidad del usuario en violación del Capítulo 876, Estatutos de la Florida.

Face coverings required at businesses within city limits starting June 26
PENSACOLA, Fla. – Mayor Grover Robinson issued Declaration of State of Emergency 20-03 effective at 5 p.m. today, Friday, June 26, requiring face coverings to be worn by employees and patrons inside businesses within City of Pensacola limits.
This order is in response to a rapid increase of COVID-19 cases in the Pensacola area and in accordance with the recent Public Health Advisory issued by the State Surgeon General, along with the recommendation from the Centers for Disease Control and Prevention that cloth face coverings be worn in public settings where social distancing is difficult to maintain.
"Our top priority in the City of Pensacola is the health and safety of our citizens, and we have to take action to protect our community during these unprecedented times," Mayor Robinson said. "Wearing a mask is a simple step we can all take to help prevent the spread of COVID-19, and ultimately help our community and economy recover more quickly. It's important to remember that you can spread COVID-19 even if you don't feel sick. Wearing a mask is not a sign of fear or selfishness, but rather a sign of kindness and selflessness since your mask could protect others from getting sick."
This order applies to City of Pensacola limits and includes the following:
An individual in a business must wear a face covering while in a business establishment.
All persons who own, manage, or are employed by a business located in the city must wear a face covering while on-duty and having direct or indirect customer contact, including persons working in a kitchen or otherwise preparing or serving food or beverages to customers.
Each business must post signage notifying individuals of the requirement to wear a face covering as provided by this order. Printable PDF signs are available online, or businesses are welcome to create their own signage:
What is considered a face covering?
A face covering is a material that covers the nose and mouth and that fits snugly against the sides of the face so there are no gaps. It can be secured to the head with ties or straps or simply wrapped around the lower face. It can be made of a variety of materials, such as cotton, silk, or linen. Coverings with materials made of multiple layers is highly encouraged. A cloth face covering may be factory-made or sewn by hand, or the cloth face covering can be improvised from household items.
For additional information about how to make, wear and wash a cloth face covering, visit CDC's website.
Exceptions
This order does not apply to:
A child under 6 years of age.
A person who has one or more medical conditions or disabilities that prevent wearing a face covering, including anyone who has trouble breathing or is unconscious, incapacitated, or otherwise unable to remove a face covering without assistance. A person asserting this exception for medical conditions or disabilities is not required to carry or produce documentation verifying the health condition to a business or law enforcement.
A person who is communicating with an individual who is hearing impaired who needs to see the mouth of the person speaking to facilitate communication.
An individual who is obtaining a service involving the nose or face for which temporary removal of the face covering is necessary to perform the service.
Public safety, police, fire, and other life safety and health care personnel whose personal protective equipment requirements are governed by their respective agencies.
A person in a federal, state, or Escambia County government building.
A person exercising while observing at least 6 feet of distancing from other persons.
Persons while eating or drinking. It is the intent of this provision that a face covering be worn while traversing a business for ingress and egress, to use the restroom facilities, and while standing when persons are unable to maintain at least 6 feet of distancing.
Business owners, managers, and employees who are in an area of a business that is not open to customers, patrons, or the public, provided that 6 feet of distance exists between persons. This exception does not apply to employees who are present in the kitchen or other food and beverage preparation area of a business – those persons must wear face coverings.
An individual in a lodging establishment who is inside of the lodging unit, including, but not limited to, a hotel room, motel room, vacation rental unit, timeshare unit, or similar unit.
Nothing in this order shall require or allow a person to wear a face covering to conceal the identity of the wearer in violation of Chapter 876, Florida Statutes.

[adrotate group="1"]