Estreno de la ópera de Pensacola de la Florencia de Catán en el Amazonas
PENSACOLA, Fla. – El 15 y 17 de marzo, el Pensacola Saenger Theatre cobrará vida con una producción completamente nueva e innovadora, ya que la Ópera de Pensacola hace su debut de Florencia en la Amazonas.
Experimente el teatro Saenger como nunca lo ha visto con proyecciones de video de escenario completo que sumergen por completo al público en un espectáculo visual de principio a fin. Cantadas en español original con traducciones proyectadas al inglés, las presentaciones de Florencia en el Amazonas se presentarán en el histórico teatro Saenger el viernes 15 de marzo a las 7:30 p. m. y el domingo 17 de marzo a las 2:00 p.m. Los precios de los boletos varían de $25.00 a $115.00 y se pueden comprar en Opera Center llamando al 850.433.6737 o en línea en www.pensacolaopera.com.
La ópera está basada libremente en la novela Amor en el Tiempo del Cólera de Gabriel García Márquez, cuya técnica de escritura denominada "realismo mágico" cierra la brecha entre la realidad y la fantasía, por lo que no hay distinción entre los dos.
La historia nos presenta a Florencia Grimaldi, una cantante de ópera de gran renombre, que regresa a su ciudad natal de Manaus en busca de Cristóbal, el amor que dejó atrás hace veinte años. Ella y los demás pasajeros a bordo del El Dorado pronto aprenden lo que sucede cuando el destino se encuentra con la fantasía.
A medida que comienza la historia, el brillante Amazonas cobra vida con estas proyecciones de video y los miembros del coro de ópera emergen lentamente, creando una ola de movimiento constante. El efecto visual es bastante impresionante y completamente atractivo.
"Ese es el concepto más revolucionario de la producción", dice el director de escena, John Hoomes. "Un río vivo que reacciona e interactúa con los cantantes principales a medida que evoluciona la acción de la ópera".
Quizás esta es la razón por la que las audiencias han expresado que nunca han experimentado algo como esto: un nuevo tipo de realidad virtual, una aventura operística que involucra los sentidos de una manera diferente.
"Siento que el video HD se ha convertido en una herramienta nueva y extremadamente expresiva para contar historias visuales en el escenario. Las posibilidades son infinitas", agrega Hoomes. "Esto libera a la audiencia para involucrarse en la historia desde el punto de vista del personaje y le da a toda la ópera una sensación de ensueño de lo que puede ser real frente a lo que puede ser fantasía. Una sensación de que, en cualquier momento, cualquier cosa podría pasar y que sucedería".
Celebrando su 2da temporada como Director de Educación y Artistas en el Programa de Residencia, Cody Martin dirige Florencia en la Amazonía, liderando un reparto estelar con créditos internacionales y nacionales. Este elenco de cantantes vibrantes y bilingües incluye a Elizabeth Caballero (originaria de Miami y soprano) (vista por última vez en Madama Butterfly en 2018), quien regresa a la etapa de la Ópera de Pensacola en el papel principal. A ella se unen los barítonos Luis Alejandro Orozco y Corey Crider y el tenor Andrés Acosta, quienes están haciendo su debut en la ópera de Pensacola. La Ópera de Pensacola también le dará la bienvenida a la soprano Evelyn Saavedra, una ex artista en residencia.
El director de escena John Hoomes hace su debut en la Ópera de Pensacola, al frente de una producción que presenta el escenario de Cara Schneider de  Ópera de Nashville, el diseño de iluminación y video de Barry Steele y los trajes de nueva creación diseñados especialmente para esta producción de Glenn Avery Breed. Los miembros de la Orquesta Sinfónica de Pensacola y el Coro de la Ópera de Pensacola también se presentan en la producción.
Pensacola Opera debut of Catán's Florencia in the Amazon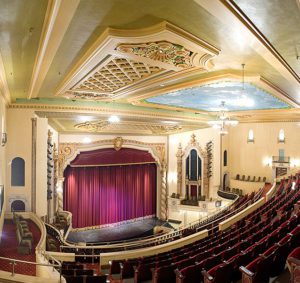 PENSACOLA, Fla. – On March 15 and 17, the Pensacola Saenger Theatre will come alive with a brand new and innovative production as the Pensacola Opera debuts Florencia in the Amazon.
Experience the Saenger Theatre as you've never seen it with full-stage, video projections completely immersing the audience in a visual spectacle from start to finish. Sung in the original Spanish with projected English translations, performances of Florencia in the Amazon will be presented in the historic Saenger Theatre on Friday, March 15th at 7:30PM and Sunday, March 17th at 2:00PM. Ticket prices range from $25.00-$115.00, and may be purchased from the Opera Center at 850.433.6737 or online at www.pensacolaopera.com.
The opera is loosely based on the novel Love in the Time of Cholera by Gabriel García Márquez, whose writing technique termed "magical realism" bridges the gap between reality and fantasy so there is no distinction between the two.
The story introduces us to Florencia Grimaldi – an opera singer of great renown – who is returning to her hometown of Manaus in search of Cristóbal, the love she left behind twenty years ago. She and the other passengers aboard the El Dorado soon learn what happens when fate meets fantasy.
As the story opens, the shimmering Amazon comes to life with these video projections and members of the opera chorus slowly emerging, creating a constant wave of movement. The visual effect is rather stunning and thoroughly engaging.
"That is the most revolutionary concept of the production," says Stage Director, John Hoomes. "A living river that reacts to and interacts with the principal singers as the action of the opera evolves."
Perhaps this is why audiences have expressed that they have never experienced anything quite like it—a new type of virtual reality, operatic adventure that engages the senses in a different way.
"I feel HD video has become a new and extremely expressive tool for visual storytelling on stage – the possibilities are endless" adds Hoomes. "This frees the audience to engage the story from the character's point of view and gives the entire opera a dreamlike feeling of what may be real versus what may be fantasy. A feeling that, at any moment, anything could happen and that it would."
Celebrating his 2nd season as Director of Education and Artists in Residence Program, Cody Martin conducts Florencia in the Amazon, leading an all-star cast with international and national performing credits. This cast of vibrant, bilingual singers includes Miami native and soprano Elizabeth Caballero (last seen in 2018's Madama Butterfly), who returns to the Pensacola Opera stage in the title role. She is joined by baritones Luis Alejandro Orozco and Corey Crider and tenor Andres Acosta, who are making their Pensacola Opera debuts. Pensacola Opera will also welcome back soprano Evelyn Saavedra, a former Artist in Residence.
Stage Director John Hoomes makes his Pensacola Opera debut, leading a production which features scenery by Nashville Opera's Cara Schneider, lighting and video design by Barry Steele, and newly created costumes designed especially for this production by Glenn Avery Breed. Members of the Pensacola Symphony Orchestra and Pensacola Opera Chorus are also featured in the production.  
[adrotate group="1"]