Ayuda para Puerto Rico entregada personalmente
Mientras las familias en la Costa del Golfo preparaban la cena del Dia de Acción de Gracias, algunas personas dedicadas se preparaban para viajar a Puerto Rico. Su misión era ayudar a reconstruir casas dañadas y distribuir suministros donados.
Joe Pérez de Joe's Caribe organizó un grupo para viajar a Puerto Rico. Las organizaciones colaboradoras incluyen Cici's Pizza en Ninth Avenue en Pensacola, Boricuas Ausentes en Fort Walton Beach, y Family of Hope World Ministries de Pensacola.
Family of Hope World Ministries ha estado celebrando servicios de adoración en Joe's Caribe los domingos a las 10 a.m. desde mediados de noviembre. La colaboración ha demostrado ser más que un deseo de adorar juntos, sino de servir.
El grupo llegó a Arecibo el 28 de noviembre con planes de regresar a Pensacola el 6 de diciembre. JetBlue donó 15 boletos de avión para la misión.
Help for Puerto Rico hand-delivered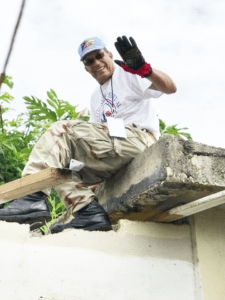 While families across the Gulf Coast were preparing Thanksgiving Day dinner, a few dedicated individuals were preparing to travel to Puerto Rico. Their mission was to help rebuild damaged homes and distribute donated relief supplies.
Joe Perez of Joe's Caribe organized a group to travel to Puerto Rico. Collaborating organizations include Cici's Pizza on Ninth Avenue in Pensacola, Northwest Florida Boricuas Ausentes in Fort Walton Beach, and Family of Hope World Ministries of Pensacola.
Family of Hope World Ministries has been holding worship services at Joe's Caribe on Sundays at 10 a.m. since mid-November. The collaboration has proved to be more than desire to worship together, but to serve.
The group arrived in Arecibo on November 28 with plans to return to Pensacola on December 6. JetBlue donated 15 airline tickets for the mission.
[adrotate group="1"]