*ACUALIZACION: Según el sitio web de Trump, él hablará en el Pensacola Bay Center el viernes 8 de diciembre a las 7 p.m. Las puertas se abren a las 4 p.m. Los boletos estan disponibles aqui: https://www.donaldjtrump.com/rallies/pensacola-fl-dec-2017
*UPDATE: According to Trump's website, he will be speaking at the Pensacola Bay Center on Friday, December 8 at 7 p.m. Doors open at 4 p.m. Tickets are available here: https://www.donaldjtrump.com/rallies/pensacola-fl-dec-2017
Trump visitará Pensacola
El Washington Post dio la noticia que Donald Trump planea realizar una manifestación al estilo campaña en Pensacola el 8 de diciembre. La manifestación se realizará cuatro días antes de las elecciones especiales de Alabama en las que Doug Moore (Rep.) corre contra Doug Jones (Dem.) para el asiento del Senado de los Estados Unidos.
Moore ha sido acusado de agresión sexual y de tener relaciones con adolescentes mientras él tenía mas de 30 años. Él niega esas acusaciones.
Después de que se anunciaron las denuncias, prominentes republicanos, líderes religiosos y líderes del partido pidieron a Moore que abandonara su campaña y los senadores retiraron sus endosos. Trump, sin embargo, continúa apoyando públicamente a Moore como muchos republicanos de Alabama.
Aunque la secretaria de prensa de la Casa Blanca, Sarah Huckabee Sanders, dijo que Trump no tiene tiempo para hacer campaña por Moore, El Washington Post informa que los asesores esperan que Trump "ataque a los demócratas nacionales" y posiblemente a Jones. La localidad del evento de Trump no está clara al momento de este escrito.
El informe del Washington Post describe que la visita a Pensacola podría permitir que Trump llegue a los votantes de Alabama ya que la ciudad se encuentra en el mismo mercado de medios que Mobile. Moore habló en una iglesia en Mobile el 29 de noviembre.
Trump to visit Pensacola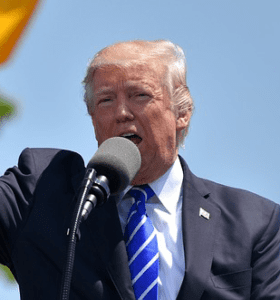 The Washington Post broke the news that Donald Trump plans to hold a campaign-style rally in Pensacola on December 8. The rally will be held four days before Alabama's special election in where Doug Moore (Rep.) is running against Doug Jones (Dem.) for the U.S. Senate seat.
Moore has been accused of sexual assault and that pursuing relationships with teenage girls while in his 30s. He denies those allegations.
After the allegations were reported, prominent Republicans, religious leaders and party leaders called for Moore to drop out of the race and senators withdrew their endorsements. Trump, however, continues to publicly support for Moore as have many Alabama Republicans.
Though White House press secretary Sarah Huckabee Sanders said Trump has no time to campaign for Moore, The Washington Post reports that advisers are expecting Trump to "attack national Democrats" and possibly Jones. The location of Trump's event is unclear as of writing.
The Washington Post report describes says the Pensacola visit could allow Trump to reach Alabama voters as the city is in the same media market as Mobile. Moore spoke at a church in Mobile on November 29.
[adrotate group="1"]