Ahogamiento en Destin bajo investigación
DESTIN, Fla. – Un hombre de Destin que supuestamente hacía ejercicios de natación y respiración en una piscina de Destin se ahogó el lunes 31 de agosto.
Los socorristas fueron llamados a una piscina en un complejo de apartamentos en Commons Dr. alrededor de las 3:30 p.m. después de que Brennan May, de 29 años de esa dirección, fuera encontrado tendido en el fondo de la piscina.
Los testigos dicen que May era un buzo de la Marina que asistía al Naval Explosives Ordinance Disposal School en Eglin. Le dijeron a los agentes que había estado nadando a lo largo de la piscina bajo el agua como entrenamiento. Según los informes, May se acercó brevemente y conversó con su esposa antes de volver a sumergirse y acostarse en el fondo. Después de haber estado en el agua durante varios minutos, su esposa fue a ver cómo estaba. Descubrió que estaba tendido y no respiraba.
Las personas presentes lo sacaron de la piscina y lo ayudaron con la respiración artificial y la reanimación cardiopulmonar hasta que llegaron los socorristas.
May fue trasladado a una sala de emergencias en Destin, donde fue declarado muerto poco antes de las 4 p.m.
La profundidad de la piscina varía de 3'6 "a 4'6".
Drowning in Destin under investigation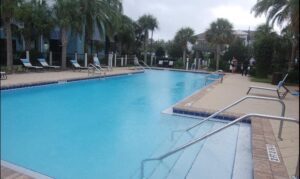 DESTIN, Fla. – A Destin man reportedly doing swimming and breathing exercises at a Destin pool drowned Monday, August 31.
First responders were called to a pool at an apartment complex on Commons Dr. around 3:30 p.m. after 29-year old Brennan May of that address was found limp on the pool bottom.
Witnesses say May was a Navy diver attending the Naval Explosives Ordinance Disposal School at Eglin. They told deputies he had been swimming the length of the pool underwater as training. May had reportedly come up briefly and chatted with his wife before going back underwater and lying on the bottom. After he had been in the water for a number of minutes, his wife went to check on him. She found he was limp and not breathing.
He was pulled from the pool by bystanders who assisted with rescue breathing and CPR until first responders arrived.
May was transported to an emergency room in Destin, where he was pronounced deceased just before 4 p.m.
The pool's depth ranges from 3'6" to 4'6".
[adrotate group="1"]