Cox elimina los cargos por pagos atrasados y extiende el alivio de pago para clientes de bajos ingresos
NORTHWEST  FLORIDA – Hasta el 30 de junio de 2021, Cox suspenderá los cargos por pagos atrasados y extenderá las ofertas de alivio de pago para los clientes del programa de internet de bajo costo Connect2Compete de la compañía que expresen su incapacidad para pagar debido a las dificultades pandémicas.
Hasta el 30 de junio de 2021, Cox ofrece lo siguiente:
Promocionar activamente el programa Connect2Compete de bajo costo de Cox para generar conciencia y adopción entre los clientes elegibles, incluidos equipos de herramientas para que las escuelas ayuden a las familias a conectarse.
Continuar sin requisitos de depósitos o tarifas de solicitud y exonerar proactivamente las tarifas por pago atrasado para los clientes elegibles de Connect2Compete.
Extender los planes Connect2Compete de bajo costo a los clientes elegibles siempre que califiquen.
Ofrecer precios consistentes y transparentes a los clientes elegibles durante la inscripción al plan.
Proporcionar arreglos de pago flexibles para los clientes elegibles que nos contacten con una incapacidad para pagar debido a las dificultades de la pandemia.
Asociarse con ciudades, distritos escolares y organizaciones comunitarias para conectar un gran número de estudiantes de bajos ingresos a Internet.
Brindar un servicio excepcional y oportuno, lo que incluye ofrecer un proceso de calificación de vía rápida para la inscripción al plan Connect2Compete y la activación del servicio con las escuelas.
Promover las asociaciones existentes con proveedores de hardware que ofrecen un dispositivo de bajo costo junto con un plan de conectividad para clientes elegibles.
Ofrecer soluciones provisionales creativas para brindar conectividad antes de que sea posible la activación residencial, incluido el acceso inmediato a 3M + Cox Hotspots en todo el país.
A lo largo de la pandemia, Cox ha implementado varios programas para ayudar a las familias a conectarse desde casa durante la pandemia. Recientemente, la compañía anunció una nueva oferta para las nuevas familias que califiquen y que se inscriban antes del 30 de septiembre para recibir Connect2Compete gratis durante 2 meses, incluido soporte técnico remoto gratuito justo a tiempo para el regreso a clases. Las familias pueden calificar para Connect2Compete fácilmente desde su dispositivo móvil o computadora de escritorio visitando www.cox.com/c2c.
El programa Cox Connect2Compete está disponible para familias que tienen al menos un hijo que es un estudiante K-12 en casa y participan en programas de subsidios gubernamentales como el Programa Nacional de Almuerzos Escolares, SNAP, TANF, Head Start, WIC, LIHEAP o Public Alojamiento.
Cox eliminates late fees, extends payment relief for low-income customers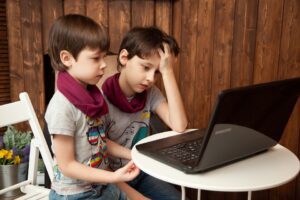 NORTHWEST FLORIDA – Through June 30, 2021 Cox is suspending late fees and extending payment relief offerings for customers in the company's low-cost internet program Connect2Compete who express an inability to pay due to pandemic hardships.
Through June 30, 2021, Cox offers the following:
Actively promote Cox's low-cost Connect2Compete program to drive awareness and adoption among eligible customers, including toolkits for schools to help families connect.
Continue no requirement of deposits or application fees and proactively waive late fees for eligible Connect2Compete customers.
Extend the low-cost Connect2Compete plans to eligible customers as long as they qualify.
Offer consistent and transparent pricing to eligible customers during plan enrollment.
Provide flexible payment arrangements for eligible customers who contact us with an inability to pay due to pandemic hardships.
Partner with cities, school districts and community-based organizations to connect large numbers of low-income students to the internet.
Provide timely, exceptional service, including offering a fast-track qualification process for Connect2Compete plan enrollment and service activation with schools.
Promote existing partnerships with hardware providers who offer a low-cost device along with a connectivity plan for eligible customers.
Offer creative, interim solutions to provide connectivity before residential activation is possible, including immediate access to 3M+ Cox Hotspots nationwide.
Throughout the pandemic, Cox has implemented several programs to help families connect from home during the pandemic. Recently, the company announced a new offer for new qualifying families who sign up before September 30 to receive Connect2Compete free for 2 months including free remote technical support just in time for back-to-school. Families can qualify for Connect2Compete easily from their mobile device or desktop by visiting  www.cox.com/c2c.
The Cox Connect2Compete program is available to families who have at least one child that is a K-12 student at home and participate in government subsidies programs such as The National School Lunch Program, SNAP, TANF, Head Start, WIC, LIHEAP, or Public Housing.
[adrotate group="1"]