Warrior Fit Nutrition abre en Pensacola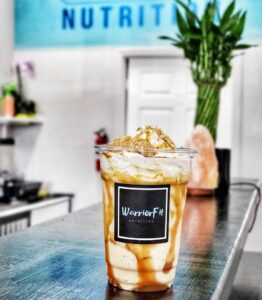 PENSACOLA, Fla. – Warrior Fit Nutrition abrió sus puertas el sábado 26 de octubre. El flujo de clientes se inspiró para encontrar alternativas más saludables transmitidas a través de su inauguración.
Batidos, tés, cafés, gelatinas energéticas y gofres están en el menú de niveles. Todos los artículos vienen en una variedad de sabores y potenciadores, como inmunidad, refuerzo de belleza y promesas duo, un supresor del hambre.
"BCAAS es para sus aminoácidos, así que si realiza cualquier tipo de actividad como correr, ayuda a restaurar sus músculos," dijo la copropietaria Nia Ruiz-Mercado.
El negocio es claramente un asunto familiar. Nia y su esposo, el ex oficial de policía de Pensacola, Mateo Mercado documentaron las renovaciones de su nueva tienda en su página de Facebook. La tienda energéticamente decorada ubicada en 6245 N. Davis Hwy., Suite E al lado de Planet Fitness.
Los padres de Nia asistieron a la gran inauguración y saludaron a los visitantes mientras la pareja llenaba febrilmente los pedidos.
"Estoy súper orgulloso de ellos," dijo el padre de Nia, Víctor Ruiz. "Han superado mucho, así que es genial verlos abrir [la tienda]."
Warrior Fit Nutrition está abierto de lunes a jueves, de 5:30 a.m. a 7 p.m., los viernes de 5:30 a.m. a 5 p.m., los sábados de 8 a.m. a 4 p.m. y cerrado los domingos.
Warrior Fit Nutrition opens in Pensacola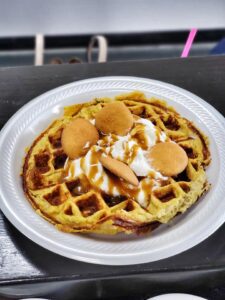 PENSACOLA, Fla. – Warrior Fit Nutrition opened its doors on Saturday, October 26. The flow of customers inspired to find heathier alternatives streamed through their inauguration.
Shakes, teas, coffees, energy jello shots and waffles are on tier menu. All items come in a variety of flavors and enhancers such as immunity, beauty booster and promesas duo, a hunger suppressant.
"BCAAS is for your amino acids, so I you do any kind of activity like running, it helps restore your muscles," said co-owner Nia Ruiz-Mercado.
The business is clearly a family affair. Nia and her husband, former Pensacola Police officer, Mateo Mercado documented the renovations of their new store on their Facebook page. The energizingly decorated store located at 6245 N. Davis Hwy., suite E next to Planet Fitness.
Nia's parents were attended the grand opening and greeted visitors while the couple feverishly filled orders.
"I'm super proud of them," Nia's father, Victor Ruiz, said. "They've overcome a lot, so it's great to see them open [the store]."
Warrior Fit Nutrition is open Monday through Thursday, 5:30 a.m. until 7 p.m., Fridays, 5:30 a.m. until 5 p.m., Saturdays, 8 a.m. – 4 p.m. and closed on Sundays.
[adrotate group="1"]