Un artista culinario y dueño de un restaurante local honra a El Salvador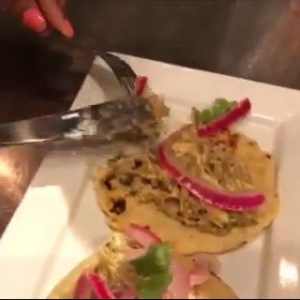 PENSACOLA, Fla (26 de julio de 2018)—El viaje de Nathan Holler a El Salvador para surfear hace un par de semanas también tenía un segundo propósito además de surfear. Era parte de un equipo que entregaba 80 filtros de agua a personas que no tenían acceso a agua limpia cerca de la ciudad de La Libertad.
Después de atravesar este país del tercer mundo, regresó con la pregunta: "¿Cómo impacta mi experiencia en El Salvador en mi vida en mi país? Especialmente en un mundo donde simplemente abro un grifo para obtener agua fresca, donde tengo un refrigerador, y donde puedo comprar comestibles en cualquier momento que quiera."
El Salvador es el país más pequeño y el más poblado de Centroamérica y lucha contra las altas tasas de pobreza, desigualdad y delincuencia.
Los recursos hídricos están seriamente contaminados; con parte de las aguas residuales vertidas al medio ambiente sin tratamiento.
Pero se enamoró de la gente de allí. Él encontró inspirador la forma en que eligen vivir en comunidad; cada uno jugando su rol para que todos puedan beneficiarse.
Es por eso que regresó motivado para honrar a este país al presentar varios platos nativos durante nuestra próxima entrega de Sesiones. Su inspiración será servida este fin de semana durante las Sesiones de El Salvador.
El Salvador Sessions es solo este fin de semana, viernes y sábado, 27-28 de julio de 6 p.m. – 9 p.m. en el Dog House Deli, 30 S. Palafox St. en el centro de Pensacola. No se necesitan reservaciones.
Local culinary artist and restaurant owner honors El Salvador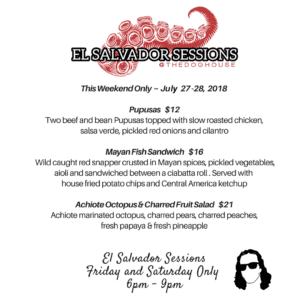 PENSACOLA, Fla (July 26, 2018)—Nathan Holler's trip to El Salvador to surf a couple of weeks ago also had a second purpose besides surfing. He was part of a team that was delivering 80 water filters to people that did not have access to clean water near La Libertad.
After traversing this third world country, he came back with the question, "How does my experience in El Salvador impact my life back home? Especially in a world where I simply turn a faucet to get fresh water, where I have a fridge, and where I can buy groceries any time I want."
El Salvador is the smallest and the most populated country in Central America and they struggle with high rates of poverty, inequality, and crime.
The water resources are seriously polluted; with part of the wastewater discharged into the environment without treatment.
But he fell in love with the people there. He found it inspirational the way that they choose to live in community; each one playing their role so that all can benefit.
It is why he came back motivated to honor this country by highlighting several native dishes during our next installment of Sessions. His inspiration will be plated this weekend during El Salvador Sessions.
El Salvador Sessions is this weekend only, both Friday and Saturday, July 27-28 from 6pm – 9pm at the Dog House Deli, 30 S. Palafox St. in Downtown Pensacola. No reservations needed. 
[adrotate group="1"]