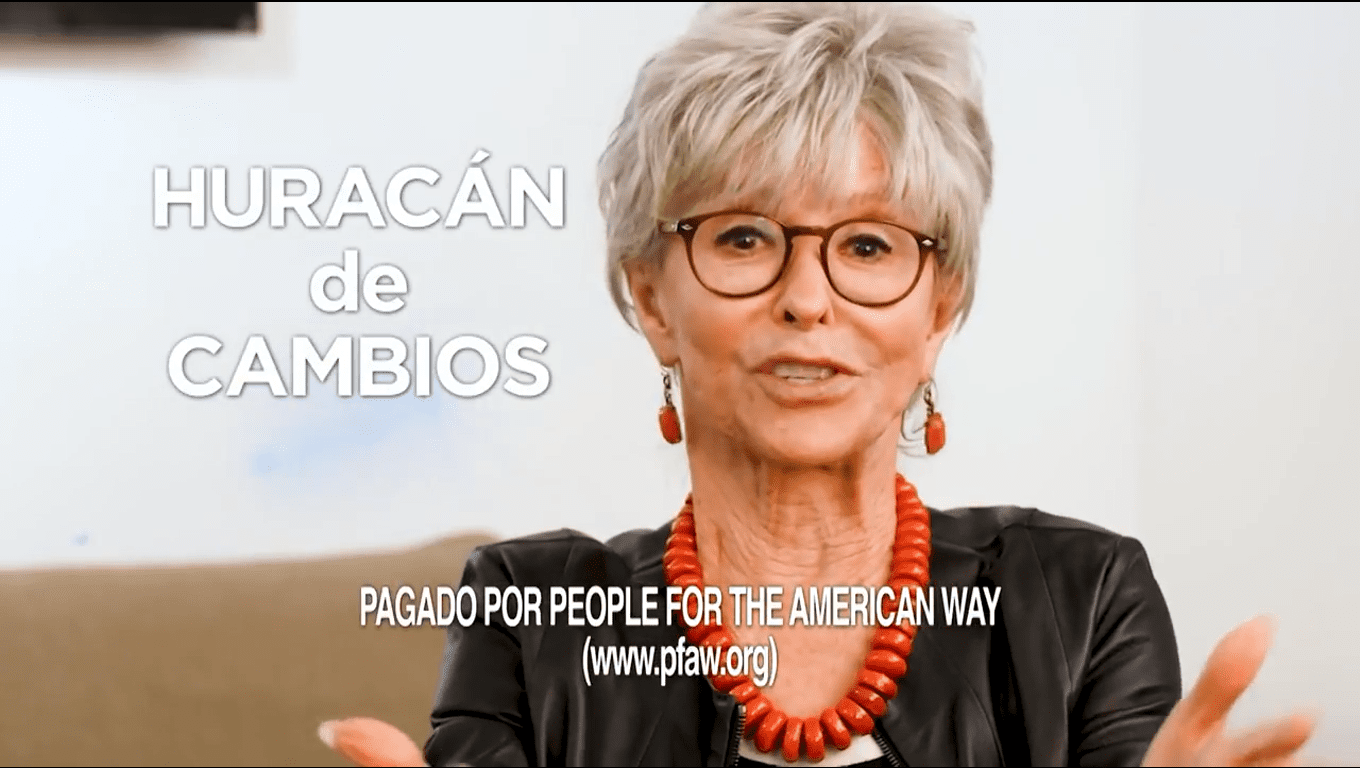 Se lanzó una campaña para involucrar a los votantes puertorriqueños para crear un "huracán de cambio" el día de las elecciones
WASHINGTON, DC—¡Actualmente, People for the American Way's Latinos Vote! El programa lanzó la campaña Hurricane of Change enfocada en los votantes puertorriqueños, con un anuncio digital y televisivo con Rita Moreno, una de las actrices latinas más aclamadas de la historia y una de las 12 personas que han ganado un Emmy, Grammy, Oscar y un Tony Award . La campaña incluirá esfuerzos de medios ganados y pagados para empoderar e involucrar a los puertorriqueños, especialmente a los más de 135,000 que llegaron a tierra firme después del huracán María, para responsabilizar a los líderes elegidos por el horrible tratamiento de la isla y elevar sus voces a través del poder de su voto.
"Estas elecciones son tan críticas para nuestra comunidad. Tenemos mucho en juego, por eso es tan importante que nos registremos y nos aseguremos de que se escuche nuestra voz ," dijo Rita Moreno. "Demasiadas personas en Washington creen que nuestras necesidades pueden ser ignoradas. Aparecer en las urnas es la mejor manera de decirle a nuestros funcionarios electos que los puertorriqueños merecen el mismo respeto y trato justo que cualquier otro estadounidense. Me complace asociarme con People For the American Way para este proyecto. Es muy importante que cada uno de nosotros enfoque nuestra energía y se asegure de que nuestra comunidad esté lista para ponerse de pie el día de las elecciones ."
"Los ciudadanos de Puerto Rico son ciudadanos de los Estados Unidos," dijo la directora política de People For the American Way, Lizet Ocampo. "Los puertorriqueños que se mudaron a la parte continental y son residentes pueden registrarse para votar hoy. Tienen el poder de tener un gran impacto en el ciclo electoral del 2018. Es por eso que estamos poniendo especial énfasis en llegar a los puertorriqueños, especialmente en estados inestables, para asegurarnos de que comprendan que pueden defenderse por sí mismos contra el odio y la falta de respeto de Donald Trump y sus aliados. Estamos encantados de poder asociarnos con la legendaria Rita Moreno, una ídolo estadounidense nacida en Puerto Rico, para lanzar esta campaña y hacerles saber a todos cuán importante es que se registren para votar en este momento y prepararse para crear no solo un ola azul, pero un huracán de cambio en noviembre."
El anuncio se transmitirá por televisión en español en Orlando, Florida, y aparecerá en inglés y español en línea en todo el país, incluidos los estados clave como Florida y Pennsylvania, a los que se trasladó un gran número de puertorriqueños después del huracán María y contrasta con el devastador impacto que el huracán María tuvo en Puerto Rico con imágenes de Donald Trump tirando toallas de papel a una multitud. ¡El trabajo anterior de PFAW con sus latinos Vote! El programa ha incluido extensos medios pagados y ganados en elecciones críticas, incluida la campaña presidencial del 2012 y 2016, además de numerosas contiendas federales y estatales.
Puede ver la versión en idioma español del anuncio aquí: https://youtu.be/4px_sfI4xqE
Campaign launched to engaging Puerto Rican voters to create a "Hurricane of Change" on Election Day
WASHINGTON, DC—People For the American Way's Latinos Vote! program launched the Hurricane of Change campaign focused on Puerto Rican voters, with a TV and digital ad featuring Rita Moreno, among the most acclaimed Latina actresses in history and one of only 12 people to have won an Emmy, Grammy, Oscar and a Tony award. The campaign will include earned and paid media efforts to empower and engage Puerto Ricans—especially the more than 135,000 who came to the mainland after Hurricane Maria—to hold elected leaders accountable for the horrible treatment of the island and raise their voices through the power of their vote.
"These elections are so critical for our community. We have much at stake, which is why it's so important that we register and make sure our voices are heard," said Rita Moreno. "Too many in Washington think our needs can be ignored. Showing up at the ballot box is the best way to tell our elected officials that Puerto Ricans deserve the same respect and fair treatment as every other American. I'm pleased to partner with People For the American Way for this project. It is so important for each of us to focus our energy and make sure our community is ready to stand up on Election Day."
"Citizens of Puerto Rico are citizens of the United States," said People For the American Way Political Director Lizet Ocampo. "Puerto Ricans who moved to the mainland and are residents can register to vote today. They have the power to make a huge impact in the 2018 election cycle. That's why we're putting a special focus on reaching out to Puerto Ricans, especially in swing states, to make sure they understand that they can stand up for themselves against the hate and disrespect of Donald Trump and his allies. We're thrilled that we could partner with the legendary Rita Moreno, an American idol born in Puerto Rico, to launch this campaign to let everyone know how critical it is that they register to vote right now and get ready to create not just a blue wave, but a hurricane of change in November."
The ad will run on Spanish language TV in Orlando, Florida, and appear in both English and Spanish online across the country, including key swing states like Florida and Pennsylvania, to which significant numbers of Puerto Ricans relocated after Hurricane Maria, and contrasts the devastating impact Hurricane Maria had on Puerto Rico with images of Donald Trump tossing paper towels to a crowd. PFAW's past work with its Latinos Vote! program has included extensive paid and earned media in critical elections including the 2012 and 2016 presidential campaign, plus numerous federal and statewide races.
You can watch the Spanish language version of the ad here: https://youtu.be/8YHg1J2C67Y  
[adrotate group="1"]