Tienda La Hondureña crece en Fort Walton Beach se muda
Por  Maria Juliana Ayala
FORT WALTON BEACH, Fla. – Con un nuevo local y nuevos servicios pero con el mismo sabor latino, la tienda La Hondureña empieza el año 2020. María Rodríguez, su propietaria, se aventuró a crear un nuevo espacio en donde los latinos puedan comer, hacer sus compras y sentirse como en casa al mismo tiempo. La nueva tienda está ubicada en 102 Racetrack Rd., NE en Fort Walton Beach y abren todos los días de 9 a.m. a 8 p.m.
La tienda La Hondureña ha estado al servicio de los latinos del área por casi 15 años. María Rodríguez asumió el reto de crear una tienda más grande en donde todas las culturas hispanas puedan identificarse. María expresa que la ciudad y la comunidad latina de Fort Walton Beach han crecido mucho en los últimos años y es por eso que decidió expandir su tienda.
Con parqueadero exclusivo para sus clientes, servicios de envío de dinero, un restaurante más amplio y un área separada de compras María quiere invitar a todos los latinos a encontrar en su tienda, un espacio para cada cultura.
"Estoy trayendo productos de Colombia, Brasil, Perú, Venezuela, México, Puerto Rico y Honduras entre otros," dijo Rodríguez. "La idea es que al visitarnos las personas puedan encontrar aquello que extrañan de sus países. Queremos que desde la decoración del local hasta las comidas que ofrezcamos los haga sentir identificados."
Rodríguez recuerda su llegada a Fort Walton Beach.
"En aquella época, me enamoré de esta ciudad porque me recordaba a La Ceiba, barrio donde crecí en Honduras. Empecé ofreciendo servicios de envíos a Honduras y poco a poco fue convirtiéndose en la tienda que ahora es. Todo comenzó con una resma de papel y una impresora," dijo Rodríguez al recordar su llegada a Fort Walton Beach.
María expresa que ha sido la misma comunidad la que la ha motivado año tras año a hacer crecer su negocio.
"Son muchas las sorpresas que la tienda La Hondureña trae para este año," dijo Rodriguez.
La Hondureña store in Fort Walton Beach relocates
By Maria Juliana Ayala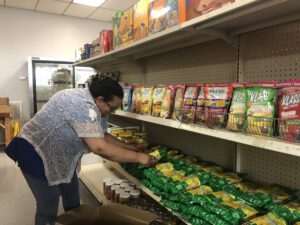 FORT WALTON BEACH, Fla. – With a new place and new services but with the same Latin flavor, La Hondureña store begins 2020. María Rodríguez, the owner, ventured to create a new space where Latinos can eat, shop and feel at home at the same time. The new store is located at 102 Racetrack Rd., NE in Fort Walton Beach and is open every day from 9 a.m. to 8 p.m.
La Hondureña store has been serving Latinos in the area for almost 15 years. María Rodríguez took on the challenge of creating a larger store where all Hispanic cultures can identify. María says "The city and the Latino community of Fort Walton Beach have grown a lot in recent years and that is why she decided to expand her store."
With exclusive parking for its customers, money transfer services, a larger restaurant and a separate shopping área, Maria wants to invite all Latinos to find in the store a space for each culture.
"I am bringing products from Colombia, Brazil, Peru, Venezuela, Mexico, Puerto Rico and Honduras among others," Rodriguez said. "The idea is that when visiting us, people can find what they miss from their countries. We want that from the decoration of the place to the meals that we offer makes them feel identified."
Rodriguez remembers her arrival in Fort Walton Beach.
"At that time, I fell in love with this city because it reminded me of La Ceiba, a neighborhood where I grew up. It all started offering shipping services to Honduras and little by little it became the store it is now. It all started with a ream of paper and a printer," Rodriguez said.
"There are many surprises that La Hondureña store brings for this year," Rodriguez said.
[adrotate group="1"]