El tribunal protege la histórica cruz de Pensacola
PENSACOLA, Fla. – Una histórica cruz de la era de la Segunda Guerra Mundial en Pensacola, Florida, permanecerá en pie gracias a una victoria en la Corte de Apelaciones del Undécimo Circuito de hoy. Un grupo ateo demandó a la Ciudad de Pensacola para retirar el monumento, que ha estado en pie desde 1941. Tras la decisión de la Corte Suprema en la Legión Americana contra la Asociación Humanista Americana, protegiendo una cruz conmemorativa de la Primera Guerra Mundial en Bladensburg, Maryland, el Undécimo Circuito dictaminó que la cruz es constitucional, reconociendo que se ha "incrustado en el tejido de la comunidad de Pensacola" y que su eliminación podría "parecer hostil hacia la religión."
Bayview Cross es una de las más de 170 exhibiciones en los parques de Pensacola que conmemoran la diversa historia y cultura de la ciudad. En 2016, cuatro personas representadas por la Asociación Humanista Americana demandaron a la ciudad, exigiendo que se derribara la cruz. El tribunal de primera instancia y una decisión anterior del Undécimo Circuito acordaron que la cruz era inconstitucional bajo la prueba de Lemon, que a menudo ha sido invocada con éxito por los demandantes antirreligiosos para eliminar la religión de las instalaciones públicas. A principios de este año, sin embargo, la Corte Suprema ordenó al Undécimo Circuito repensar su decisión a la luz de la decisión de la Corte Suprema en la Legión Americana, que finalmente descartó la prueba de Lemon en casos que involucran símbolos de larga data.
La cruz de 78 años fue construida en el Bayview Park de la ciudad en 1941, mientras Estados Unidos se preparaba para ingresar a la Segunda Guerra Mundial, como un lugar para que la comunidad se uniera. Desde entonces, los ciudadanos de Pensacola han llevado a cabo eventos comunitarios como los servicios del amanecer de Pascua, los recuerdos del Día de los Veteranos y del Día de los Caídos, y otras reuniones voluntarias en el monumento, que se ha convertido en un símbolo importante para la comunidad de Pensacola.
"Pensacola es una ciudad con una historia rica y diversa. La Cruz Bayview es una parte importante de esa historia como un símbolo de la unión de nuestra comunidad durante una crisis nacional," dijo Grover C. Robinson IV, alcalde de Pensacola. "Estamos complacidos con el fallo de la corte en este caso, y hoy celebramos nuestra tan esperada victoria y la preservación de la Cruz Bayview."
En el fallo de la Corte Suprema de junio de 2019 que confirmó la cruz conmemorativa de la Primera Guerra Mundial en Maryland, los jueces citaron varias veces el informe de Becket, amigo de la corte. Becket también ha defendido con éxito una estatua de Jesús en Montana que conmemora a los soldados caídos de la Segunda Guerra Mundial, un artefacto cruzado histórico en la Zona Cero y un sello del condado de Pennsylvania.
Court Protects Historic Pensacola Cross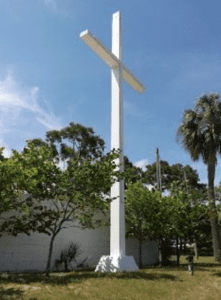 PENSACOLA, Fla. – A historic World War II-era cross in Pensacola, Florida will remain standing thanks to a victory at the Eleventh Circuit Court of Appeals today. An atheist group sued the City of Pensacola to remove the monument, which has been standing since 1941. Following the Supreme Court's decision in American Legion v. American Humanist Association, protecting a World War I memorial cross in Bladensburg, Maryland, the Eleventh Circuit ruled that the cross is constitutional, acknowledging that that it has become "embedded in the fabric of the Pensacola community" and that removing it could "strike many as aggressively hostile to religion."
The Bayview Cross is one of over 170 displays in Pensacola parks memorializing the City's diverse history and culture. In 2016, four individuals represented by the American Humanist Association sued the City, demanding the cross be torn down. The trial court and an earlier decision of the Eleventh Circuit agreed that the cross was unconstitutional under the Lemon test, which has often been successfully invoked by anti-religious plaintiffs to remove religion from public facilities. Earlier this year, however, the Supreme Court ordered the Eleventh Circuit to rethink its ruling in light of the Supreme Court's decision in American Legion, which finally scrapped the Lemon test in cases involving longstanding symbols.
The 78-year-old cross was built in the City's Bayview Park in 1941, as the U.S. prepared to enter WWII, as a place for the community to unite. Since then, Pensacola citizens have held community events such as Easter sunrise services, Veteran's Day and Memorial Day remembrances, and other voluntary gatherings at the monument, which has become a significant symbol for the Pensacola community.
"Pensacola is a city with a rich and diverse history. The Bayview Cross is an important part of that history as a symbol of our community's coming together during a national crisis," said Grover C. Robinson IV, mayor of Pensacola. "We are pleased by the court's ruling in this case, and today we celebrate our long-awaited victory and the preservation of the Bayview Cross."
In the June 2019 Supreme Court ruling upholding the World War I memorial cross in Maryland, Justices cited Becket's friend-of-the-court brief multiple times. Becket has also successfully defended a statue of Jesus in Montana commemorating fallen World War II soldiers, a historic cross artifact at Ground Zero, and a Pennsylvania county seal.  
[adrotate group="1"]