Recuperación del puente de la bahía de Pensacola (Pensacola Bay Bridge)
PENSACOLA, Fla. – El Departamento de Transporte de Florida dijo que la reapertura del puente se retrasará hasta la semana del 31 de mayo de 2021. El más reciente anuncio se produjo después de que un análisis adicional del muelle 70 presentó que se requieren más trabajos de reparación.
El FDOT dice que está revisando regularmente todo el cronograma del contratista a cargo del Proyecto del Puente de la Bahía de Pensacola con la fecha de finalización anticipada para todas las mejoras actualmente programadas para enero de 2022.
Durante los esfuerzos de reparación de las piezas de trofeo en el muelle 70, los equipos de reparación identificaron daños adicionales que justificaban reemplazar la pieza de trofeo interior en el muelle 70. La sustitución de la pieza de trofeo en el muelle 70 es crucial pues la demolición, hincado de pilotes, instalación de trofeos, colocación de vigas y la cubierta requerirá ser hormigonada.
El departamento dice que el reemplazo completo de la pieza del trofeo mantendrá el compromiso de FDOT de proporcionar la reconexión segura y eficiente de las comunidades de Gulf Breeze y Pensacola y entregar un puente con una vida útil de 75 años. Varias cuadrillas están trabajando las veinticuatro horas del día para completar los proyectos de reparación críticos para la apertura del Puente de la Bahía de Pensacola.
Los automovilistas deben seguir usando todas las rutas de desvío disponibles, que incluyen el puente Garcon Point y la carretera estatal 87. En este momento, los peajes en el puente Garcon Point están suspendidos hasta el viernes 9 de abril de 2021. Los viajeros también pueden usar el transporte público del área del condado de Escambia (ECAT) la cual tiene viajes de ruta temporal en autobús entre Pensacola y Gulf Breeze gratuitamente.
Pensacola Bay Bridge Recovery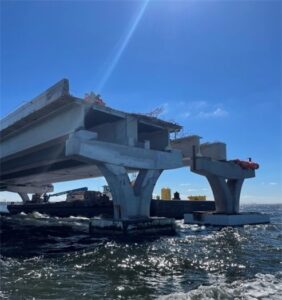 PENSACOLA, Fla. – The Florida Department of Transportation said the bridge reopening will be delayed to the week of May 31, 2021. This most recent announcement came after an additional analysis of pier 70 found more repair work is required.
The FDOT says it is regularly reviewing the contractor's schedule of the entire Pensacola Bay Bridge Project with the anticipated completion date for all improvements currently scheduled for January 2022.
During repair efforts on the trophy pieces at pier 70, repair crews identified additional damage that warranted replacing the interior trophy piece at pier 70. The trophy piece's replacement at pier 70 is critical since the demolition, pile driving, trophy installation, beam placement and deck pouring will be required.
The department says the full replacement of the trophy piece will uphold FDOT's commitment to provide the safe and efficient reconnection of Gulf Breeze and Pensacola communities and deliver a bridge with a 75-year design life. Multiple crews are working around the clock to complete repair projects critical to the opening of the Pensacola Bay Bridge.
Motorists should continue to use all available detour routes, which include the Garcon Point Bridge and State Road 87. At this time, tolls on the Garcon Point Bridge are suspended through Friday, April 9, 2021. Commuters can also use the Escambia County Area Transit's (ECAT) temporary bus route travel between Pensacola and Gulf Breeze free of charge.

[adrotate group="1"]