Torneo de ajedrez escolástico del condado de Walton 2021
SANTA ROSA BEACH, Fla. – El Torneo de Ajedrez Scholastic del Condado de Walton 2021 se llevará a cabo el sábado 24 de abril de 2021 en la biblioteca Coastal Branch, 437 Greenway Trail, Santa Rosa Beach, Florida. Este torneo estará abierto a todos los niños de edad escolar del condado de Walton. No hay tarifa de entrada.
La registración será en la biblioteca de 9 a.m. a 10 a.m. el 24 de abril y los estudiantes pueden preinscribirse llamando al (859) 267-2809.
Los jugadores tendrán 30 minutos para cada juego para hacer todos sus movimientos, y los desempates se resolverán jugando un juego de cinco minutos.
Habrá cuatro secciones: Grados 9-12; Grados 6-8; Grados 2-5; y PreK-1. Los juegos están programados para comenzar a las 10 a.m., 11:30 a.m. y 2 p.m. con emparejamientos acelerados siempre que sea posible. La sección de PreK-1 seguirá un horario diferente y terminará antes del mediodía.
Siguiendo las pautas de US Chess, todos los jugadores de ajedrez y visitantes deberán usar una máscara. Después de cada ronda, se limpiarán y desinfectarán todos los relojes, tableros y piezas. Los guantes de látex y nitrilo estarán disponibles para aquellos que quieran usarlos, y desinfectante para manos estará disponible.
2021 Walton County Scholastic Chess Tournament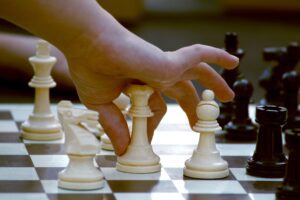 SANTA ROSA BEACH, Fla. – The 2021 Walton County Scholastic Chess Tournament will be held Saturday, April 24, 2021 at the Coastal Branch Library, 437 Greenway Trail, Santa Rosa Beach, Florida.  This tournament will be open to all school-age children in Walton County.  There is no entry fee.
Onsite registration will be from 9 a.m. until 10 a.m. on April 24 and students can preregister by calling (859) 267-2809.
Players will have 30 minutes for each game to make all their moves, and tiebreakers will be resolved by playing a five-minute game.
There will be four sections: Grades 9-12; Grades 6-8; Grades 2-5; and PreK-1.  The games are scheduled to begin at 10 a.m., 11:30 a.m. and 2 p.m. with accelerated pairings whenever possible.  The PreK-1 section will follow a different time schedule and be finished before noon.
Following US Chess guidelines, all chess players and visitors will be required to wear a mask.  After each round, all clocks, boards and pieces will be cleaned and disinfected.  Latex and Nitrile gloves will be available for those who want to use them, and hand sanitizer will be available.
[adrotate group="1"]