La Oficina del Sheriff Ofrece Consejos de Seguridad para Pokemon Go

La fiebre "Pokémon Go" se extiende por todo el mundo, pero los jugadores deben centrarse en su seguridad y los no jugadores tienen que estar alerta a las personas que vagan por ahí que no siempre están prestando atención a su entorno.

La aplicación de teléfonos inteligentes "Pokémon Go" implica deambular por los usuarios a explorar su entorno para atrapar a Pokémon a través de la realidad. El ir a la propiedad privada o pareciendo tirar basura fuera de los negocios podría llevar a las llamadas de una persona sospechosa a las fuerzas del orden.

Las oficinas policiales recomiendan los siguientes consejos a los jugadores:
Los usuarios deben respetar los lugares de negocios y la propiedad privada.
Ser consciente de dónde se encuentra y que está a su alrededor en todo momento. La policía en O'Fallon Missouri han detenido a tres personas en relación con una serie de robos armados que dicen dirigidos a las víctimas a través de la aplicación Pokémon Go.
No trate de atrapar Pokémon y conducir! Conducir distraído es un peligro para la seguridad.
Caminar distraído es también un peligro importante. Prestar atención en dónde está caminando y estar al tanto de las intersecciones y carreteras con mucho tráfico.
No jugar solo. Los usuarios deben viajar en grupos se recomienda estar con alguien.
Informe de cualquier comportamiento sospechoso a la policía.
Sheriff's Office Offers Pokemon Go Safety Tips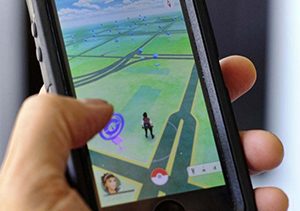 "Pokémon Go" fever is sweeping across the globe but players need to focus on their safety and non-players need to be alert to people roaming around who aren't always paying attention to their surroundings.

The smart phone app "Pokémon Go" involves users wandering around to explore their surroundings to catch Pokémon through augmented reality. Going onto private property or seeming to loiter outside businesses could prompt calls of a suspicious person to law enforcement agencies.

Law enforcement offices recommend the following tips to players:
Users need to respect places of businesses and private property.
Be aware of where you are and who is around you at all times. Police in O'Fallon Missouri have arrested three people in connection with a string of armed robberies they say targeted the victims through the Pokémon Go App.
Don't try to catch Pokémon and drive! Distracted driving is a major safety hazard.
Distracted walking is also a major hazard. Pay attention to where you are walking and be aware of intersections and busy roads.
Don't play alone. Users should travel in groups and again, practice situational awareness.
Report any suspicious behavior to law enforcement.
Facebook Comments

[adrotate group="1"]