Mostraron el Nuevo Puente Sobre el Hwy 98

El Departamento de Transporte de Florida mostró el diseño para el nuevo puente del Pensacola Bay Bridge antes de lo esperado esta semana. Conocido por los residentes locales como el puente de las tres millas que conecta Pensacola en la 17th Street de Gulf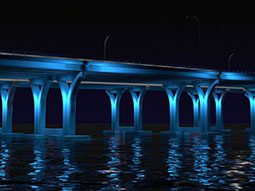 Breeze en Baybridge Dr, el reemplazo del puente será construido por Skanksa USA Civil Southeast Civil Inc.

Diseños presentados por empresas que no fueron seleccionadas para este proyecto también fueron mostrados. Los requisitos del proyecto incluyen seis carriles de tráfico, carriles para peatones y bicicletas en cada lado del puente, iluminación, señalización y cámaras. Se espera que el proyecto de sustitución del puente presupuestado en $475 millones comience a finales del 2016.
New Bridge on Hwy 98 Revealed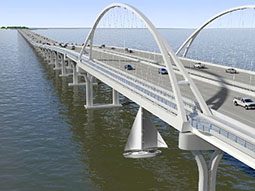 The Florida Department of Transportation released design for the new Pensacola Bay Bridge sooner than expected this week. Known to local residents as the three-mile bridge that connects Pensacola at 17th Street to Gulf Breeze at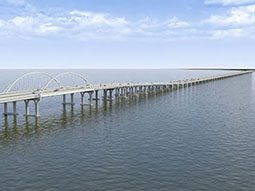 Baybridge Dr., the bridge replacement will be will be built by Skanksa USA Civil Southeast. Inc.

Designs submitted by firms that were not selected for this project were also released. The project requirements include six traffic lanes, pedestrian and bicycle paths on each side of the bridge, lighting, signage, and cameras. The $475M budgeted bridge replacement project is expected to begin at the end of 2016.
[adrotate group="1"]