Dos Reportes de Intentos de Robo de Hombres con Bates

FT. WALTON BEACH, Fla.—Un residente del área de Fort Walton Beach dice que fue atacado por dos hombres armados con bates de béisbol pequeños en la anoche del 26 de junio que exigían dinero y luego lo golpeó con el bate cuando dijo que no tenía dinero en efectivo. la victima de 41 años edad dice que el enfrentamiento paso mientras que caminaba hacia su casa sobre Scott Lane, después de las 11:00 p.m. el domingo por la noche. Fue trasladado a Fort Walton Beach Medical Center para el tratamiento de sus lesiones que no amenazaban su vida.

Al tiempo que respondieron a esta llamada, la Oficina del Sheriff del Condado de Okaloosa recibió un segundo informe de tres menores que dicen que habían sido robados por dos hombres, uno con un pequeño bate de béisbol en sus manos, en el área alrededor de las calles de Miller y Katherine cerca de las 11:50 p.m. Dicen que los hombres se fueron en un coche verde oscuro que manejaba una mujer.

Los adolescentes, de edades de 14, 15 y 16, describen al primer varón como hispanos, aproximadamente 5'10" de alto, de pelo negro y tatuaje de un venado en su antebrazo izquierdo. Dicen que el segundo individuo era un hombre blanco musculoso, de unos seis pies de alto, vestido con una camiseta blanca. No hay otras descripciones disponibles.

Cualquier persona con información se pide a ponerse en contacto con la Oficina del Sheriff del condado de Okaloosa al 850-651-7400 o Emerald Coast Crime Stoppers llamando al 1-850-863-TIPS, o vaya a emeraldcoastcrimestoppers.com.
Two Reports of Robbery Attempts by Bat-Wielding Men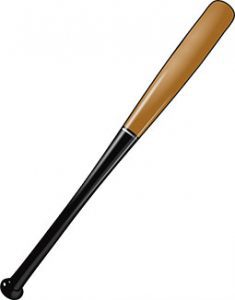 WALTON BEACH, Fla.—A Fort Walton Beach area resident says he was attacked by two men armed with small baseball bats on the evening of June 26 who demanded money and then struck him with the bats when he said he didn't have any cash. The 41-year old victim says the confrontation took place while he was walking home on Scott Lane sometime after eleven p.m. Sunday night. He was taken to Fort Walton Beach Medical Center for treatment of non-life threatening injuries.

While responding to this call, the Okaloosa County Sheriff's Office received a second report from three juveniles who say they had been robbed by two men, one with a small baseball bat in his hands, in the area around Miller Street and Katherine Street around 11:50 p.m. They say the men left in a dark green car being driven by a female.

The teens, ages 14, 15, and 16, described the first male as Hispanic, approximately 5'10" tall with black hair and tattoo of a deer on his left forearm. They say the second individual was a muscular white male, about six feet tall, wearing a white tank top. No other descriptions were available.

Anyone with information is asked to contact the Okaloosa County Sheriff's Office at 850-651-7400 or Emerald Coast Crime Stoppers by calling 1-850-863-TIPS, or go to emeraldcoastcrimestoppers.com.
[adrotate group="1"]