Pete Moore falleció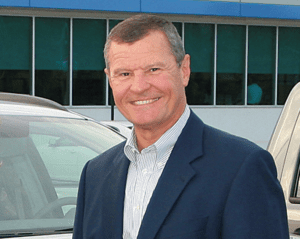 EL CONDADO DE ESCAMBIA, Fla. – El concesionario Pete Moore Chevrolet anunció el fallecimiento del Sr. Moore en su página de Facebook la mañana del miércoles 1 de mayo. Pete Moore tenía 68 años.
Los informes dicen que su fallecimiento siguió a una larga enfermedad, y que estaba rodeado de su familia en el momento de su muerte.
Moore y su hermano compraron el concesionario Chevrolet más antiguo en Pensacola, el Buggy Works original, en 1981. Buggy Works originalmente vendía caballos y carrozas a partir de 1890 en el centro de Pensacola. Pete Moore Automotive se encuentra en Warrington en 1986.
Moore es dejó a su esposa, Angela y cuatro hijas. La hija Lauren Moore Cutter es la directora de operaciones de Pete Moore Automotive, según el sitio web del concesionario.
Pete Moore Passes Away
ESCAMBIA COUNTY, Fla. — The Pete Moore Chevrolet dealership's announced Mr. Moore's passing on their Facebook page on the morning of Wednesday, May 1. Pete Moore was 68 years old.
Reports say his passing followed a long illness, and he was surrounded by his family at the time of his death.
Moore and his brother purchased the oldest Chevrolet dealership in Pensacola, the original Buggy Works, in 1981. Buggy Works originally sold horse and buggies beginning in the 1890s in downtown Pensacola. Pete Moore Automotive has been located in Warrington in 1986.
Moore is survived by his wife, Angela and four daughters. Daughter Lauren Moore Cutter is the chief operating officer of Pete Moore Automotive, according to the dealership's website.
[adrotate group="1"]