Mantener Perdido Key Sea Turtle-Friendly
El condado de Escambia les recuerda a los bañistas que "Leave No Trace" (No Dejar Rastro) y que apaguen las luces esta primavera y verano, para ayudar a mantener a Perdido Key a salvo y apta para las tortugas marinas. Mayo es el comienzo de la temporada de anidación de tortugas marinas en la Florida, con miles de tortugas en peligro de extinción que ponen sus huevos en las playas de la Costa del Golfo y del Atlántico hasta la temporada que termina el 31 de octubre. A través de la ordenanza No Dejar Rastro, es ilegal dejar propiedad personal en cualquier parte de la playa del golfo de arena desde el atardecer hasta el amanecer. Además, cualquier letrero legal de "Prohibido el paso" ("No Trespassing") en la propiedad privada debe cumplir con las regulaciones descritas en los Estatutos de la Florida y Ordenanzas de Escambia a más tardar el miércoles 15 de mayo.
Apaga las luces para proteger a las tortugas marinas bebés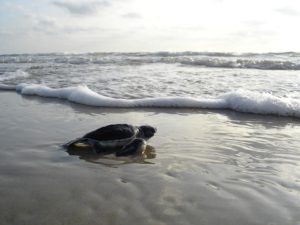 La contaminación lumínica tiene un efecto negativo en las tortugas marinas, causando que las crías se desorienten y se alejen del Golfo de México cuando emergen de su nido.
No moleste a las hembras anidadas ni a las crías mediante el uso de linternas, fotografías con flash o linternas por la noche.
Apaga las luces de la playa después del atardecer.
Cierre las persianas y cortinas en las casas frente al mar cuando las luces interiores estén encendidas por la noche.
"No Dejar Rastro" en la playa
Rellene los agujeros en la arena y derribe las esculturas de arena al final del día para eliminar los obstáculos que impiden las actividades de anidación de las tortugas marinas.
Manténgase alejado de las tortugas marinas y las crías de anidación.
Deseche adecuadamente la basura y los artes de pesca desechados. Las tortugas marinas pueden enredarse en viejas redes y líneas de pesca o ingerir bolsas de plástico y envoltorios, confundiéndolas con medusas.
Retire las pertenencias personales de la playa al final de cada día. Los artículos como sombrillas, carpas, juguetes de playa y sillas no deben dejarse desatendidos, excepto los vendedores de playa comerciales que tienen hasta 2020 para actualizar sus equipos.
No letreros de Prohibido el Paso
A diferencia de la playa de Pensacola Beach, Perdido Key tiene áreas de playa privadas que terminan en la línea de marea media o en el área de "arena húmeda", que es propiedad pública. Los propietarios de tierras frente a la propiedad del golfo en Perdido Key pueden, legalmente, no publicar letreros de entrada ilegal. Sin embargo, deben cumplir con las disposiciones descritas en los Estatutos de la Ley de Protección de Tortugas Marinas 379.2431 y la Sección 30-304 del Código de Ordenanzas de Escambia.
No se requiere que se coloquen letreros de entrada sin autorización a una distancia de no más de 500 pies y en cada esquina de los límites de la terreno.
Los propietarios privados pueden instalar hasta tres letreros de un solo poste ubicados en la base de la duna, en el punto medio de la playa y en los rincones del sur de la propiedad.
Si las propiedades vecinas tienen la intención de publicar en su propiedad, entonces se debe utilizar una sola publicación con carteles consecutivos.
La modificación de cualquier señalización actual para cumplir con estos perímetros se requiere para el miércoles 15 de mayo.
Keep Lost Key Sea Turtle-Friendly
Escambia County reminds beachgoers to "leave no trace" and turn out the lights this spring and summer, to help keep Lost Key safe and be turtle-friendly. May the beginning of the turtle nesting season in Florida, with thousands of endangered turtles laying their eggs on Gulf Coast and Atlantic beaches until the season ends October 31. Through the Leave No Trace ordinance, it is illegal to leave personal property on any portion of the sandy gulf beach from sunset until sunrise. Additionally, any lawful "No Trespassing" signs on private property must meet regulations outlined in the Florida Statues and Escambia Ordinances by Wednesday, May 15.
Lights out to protect baby be turtles
Light pollution has a negative effect on sea turtles, causing hatchlings to become disoriented and head off from the Gulf of Mexico when they emerge from their nest.
Do not disturb nesting females or hatchlings by using flashlights, flash photography or lanterns at night.
Turn out beachfront lights after dusk.
Close blinds and curtains in beachfront homes when indoors lights are on at night.
"Leave No Trace" on the beach
Fill in any holes in the water and knock down sand sculptures at day's end to remove blocking blocking sea turtles' nesting activities.
Remain at a distance from nesting be turtles and hatchlings.
Properly dispose of trash and discarded fishing gear. Be turtles can become entangled in old fishing nets and lines or ingest plastic bags and wrappers, mistaking them for jellyfish.
Remove personal belongings from the beach at the end of each day. Items such as umbrellas, tents, beach toys and chairs should not be left unattended, except for commercial beach vendors who have until 2020 to update their equipment.
No trespassing signs
Unlike Pensacola Beach, Perdido Key has privately owned beach areas that end at the mean tide line or the "wet sand" area, which is public property. Landowners of gulf front property on Lost Key may lawfully post no trespassing signs. However, they must meet the provisions outlined in the Florida Turtle Protection Act Florida Statutes 379.2431 and Section 30-304 of the Escambia Code of Ordinances.
No trespassing signs are required to be placed no more than 500 feet apart, and at each corner of the boundaries of the land.
Private landowners may install up to three single-post signs located at the base of the dune, mid-point of the beach, and at the southern corners of the property.
If neighboring properties both intend to post on their property, then a single-post with back-to-back signs should be used.
Modification of any current signage to meet these perimeters is required by Wednesday, May 15.
[adrotate group="1"]