Operación secreta da como resultado doce arrestos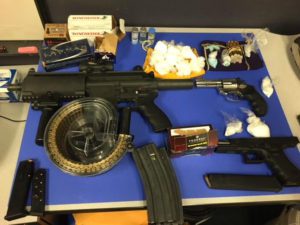 FORT WALTON BEACH, Fla.—Doce personas con edades comprendidas entre 16 y 66 años están bajo custodia luego de la ejecución de múltiples órdenes de allanamiento el 10 de agosto temprano en Hickory St. en Lovejoy Rd. cerca de Fort Walton Beach según un informe del Sheriff del condado de Okaloosa.
La operación secreta, llevada a cabo por la Oficina del Sheriff del Condado de Okaloosa, junto con los miembros de Fort Walton Beach and Crestview Police Departments asignados al OCSO Organized Crime Task Force, comenzó en abril del 2018.
En el transcurso de la investigación de cuatro meses, se descubrió que los narcóticos que van desde la cocaína y la heroína a la marihuana, la metanfetamina y la oxicodona se vendían a individuos asociados con el 212 Hickory Street y 216 Hickory Street.
El OCSO y el Organized Crime Task Force junto con el Drug Enforcement Administration, el ATF y el grupo HIDTA del noroeste de la Florida, esta mañana ejecutaron órdenes de registro en esos lugares y realizaron una docena de arrestos.
Dentro de la residencia en el 216 investigadores de Hickory encontraron oxicodona, cocaína, metanfetamina, heroína, materiales de empaque y una Smith & Wesson .380 en un congelador cerca de la cocina. También encontraron dispositivos de comunicación bidireccionales y equipos de cámaras de seguridad que unían el 212 y 216 Hickory Street e indicaban que los ocupantes de las residencias se estaban coordinando para distribuir narcóticos.
En el 212 Hickory Street, los oficiales tuvieron que ingresar por la fuerza. Encontraron cocaína y marihuana empaquetada para su distribución flotando en el inodoro. También recuperaron dinero en efectivo, materiales de embalaje, parafernalia y un arma de fuego.
Undercover operation results in twelve arrests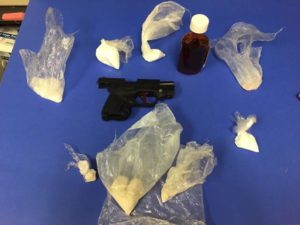 FORT WALTON BEACH, Fla.—Twelve people ranging in age from 16 to 66 are in custody after the execution of multiple search warrants early August 10 on Hickory St. off Lovejoy Rd. near Fort Walton Beach according to an Okaloosa County Sheriff's report.
The undercover operation, conducted by the Okaloosa County Sheriff's Office, along with members of the Fort Walton Beach and Crestview Police Departments assigned to the OCSO Organized Crime Task Force, began in April 2018.
Over the course of the four month investigation, it was learned narcotics ranging from cocaine and heroin, to marijuana, methamphetamine, and Oxycodone were being sold from individuals associated with 212 Hickory Street and 216 Hickory Street.
The OCSO and Organized Crime Task Force along with the Drug Enforcement Administration, ATF and Northwest Florida HIDTA group, this morning executed search warrants at those locations and made a dozen arrests.
Inside the residence at 216 Hickory investigators found oxycodone, cocaine, meth, heroin, packaging materials, and a Smith & Wesson .380 in a freezer near the kitchen. They also found two way communication devices and security camera equipment linking 212 and 216 Hickory Street and indicating the occupants of the residences were coordinating to distribute narcotics.
At 212 Hickory Street, deputies had to make forced entry. They found cocaine and marijuana packaged for distribution floating in the toilet. They also recovered cash, packaging materials, paraphernalia, and a firearm.
[adrotate group="1"]