OCSO busca conductor por atropellar y abandonar
FORT WALTON BEACH, Fla. – La Oficina del Sheriff del condado de Okaloosa dice que un automóvil golpeó a un peatón en la autopista 98 en Destin temprano en la mañana del 17 de marzo, y luego abandonó la escena sin detenerse.
La víctima de 22 años fue llevada al Centro Médico Fort Walton Beach para el tratamiento de lesiones significativas pero no mortales.
Un amigo de la víctima dice que la pareja había estado en el condominio Sundestin y decidió cruzar la calle hacia Waffle House en 1067 Highway 98. Le dijo a los agentes de la Oficina del Sheriff del Condado de Okaloosa que estaba en la acera cuando se dio cuenta de que la víctima había sido golpeada.
Se cree que el vehículo involucrado en el hit-and- run es un Nissan plateado o beige y debería tener daños frontales significativos.
Otro peatón, que se cree tenía veintitantos años, fue golpeado y asesinado mientras intentaba cruzar la autopista 98 en Destin alrededor de las 6:15 p.m. el 6 de marzo.
Un informe de OCSD dice que el conductor se dirigía hacia el este cuando el peatón, que no estaba en un cruce de peatones, se paró frente a su vehículo mientras intentaba llegar al lado sur de la carretera.
Los diputados dicen que hubo múltiples testigos del accidente. La identidad de la víctima aún no está disponible.
Cualquier persona con información debe comunicarse con la oficina del sheriff del condado de Okaloosa al 850.651.7400 o con Emerald Coast Crime Stoppers al 850.863.TIPS, emeraldcoastcrimestoppers.com, o enviando un mensaje de texto con la aplicación móvil P3 Tips.
OCSO seeks driver in hit-and-run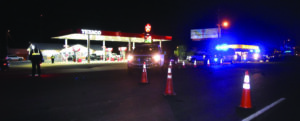 FORT WALTON BEACH, Fla. – The Okaloosa County Sheriff's Office says a car hit a pedestrian on Highway 98 in Destin early on the morning March17, then left the scene without stopping.
The 22-year old victim was taken to Fort Walton Beach Medical Center for treatment of significant but non-life-threatening injuries.
A friend of the victim says the pair had been at the Sundestin condominium and decided to walk across the road to the Waffle House at 1067 Highway 98. He told Okaloosa County Sheriff's Office deputies he was on the sidewalk when he realized the victim had been struck.
The vehicle involved in the hit and run is believed to be a silver or beige Nissan and should have significant front-end damage.
Another pedestrian, believed to be in his mid-twenties, was struck and killed while attempting to cross Highway 98 in Destin at around 6:15 p.m. on March 6.
A OCSD report says the driver was heading eastbound when the pedestrian, who was not at a crosswalk, stepped in front of her vehicle while trying to get to the south side of the highway.
Deputies say there were multiple witnesses to the accident. The identity of the victim is not yet available.
Anyone with information is asked to contact the Okaloosa County Sheriff's Office at 850.651.7400 or Emerald Coast Crime Stoppers at 850.863.TIPS, emeraldcoastcrimestoppers.com, or by texting the P3 Tips Mobile application.
[adrotate group="1"]