No caiga en estafas de tapabocas
PENSACOLA, Fla. – A medida que el brote de coronavirus empeora, BBB.org/ScamTracker ha recibido numerosos informes sobre sitios web fraudulentos que afirman tener tapabocas de venta en línea. Mientras se esfuerza por mantenerse saludable y mantener a sus seres queridos saludables, asegúrese de estar atento a los sitios de comercio electrónico falsos y otras estafas. Aún mejor, guarde los tapabocas para los profesionales médicos que realmente los necesitan, dice los Centros para el Control y la Prevención de Enfermedades (CDC).
Cómo funciona la estafa:
Desea comprar un tapabocas para protegerse a sí mismo, o a su familia, del coronavirus. Los tapabocas se agotan en sus tiendas locales y en muchos de los principales vendedores en línea. Entonces, en su lugar, recurre a la compra de máscaras en una tienda en línea que no conoce.
Desafortunadamente, abundan las tiendas falsas en línea, especialmente cuando un artículo tiene una gran demanda. Según los informes de Scam Tracker, estos vendedores falsos toman el dinero de las víctimas y nunca entregan nada. Una persona informó haber pedido casi $ 200 en tapabocas y no recibió ningún producto o respuesta del vendedor: "Revisé varias veces durante la semana pasada para ver si había información actualizada sobre una fecha de envío, pero nunca recibí más información que esa" se estaba procesando el pedido." Estos sitios utilizan trucos como ofertas de tiempo limitado para atraerlo a que solicite más.
En el peor de los casos, estos sitios son en realidad una forma de robar su información personal y de tarjeta de crédito, lo que lo abre al robo de identidad.
Cómo evitar las estafas de coronavirus:
Sea inteligente sobre las reclamaciones de productos. Si bien el uso de un tapabocas puede parecer una forma fácil de detener la propagación del coronavirus, los CDC en realidad no lo recomiendan para el público en general. Asegúrese de evaluar las reclamaciones de cualquier producto médico antes de comprar. Especialmente cuidado con los productos que dicen ofrecer una "cura milagrosa" para una variedad de dolencias.
Solo compre en tiendas y sitios web de buena reputación. La mejor manera de evitar ser estafado es comprar directamente a un vendedor que conozca y en el que confíe. Visite BBB.org para ver las experiencias de otros consumidores.
Asegúrese de que la tienda en línea tenga información de contacto activa. Si una empresa parece legítima pero no está familiarizada con ella, tenga mucho cuidado con su información personal. Antes de ofrecer su nombre, dirección e información de tarjeta de crédito, asegúrese de que la empresa sea legítima. Una dirección real, un número de servicio al cliente que funcione, un Perfil de Negocio BBB positivo. . . Estas son solo algunas de las cosas a tener en cuenta para determinar si una empresa es legítima.
A medida que se informan personas adicionales con resultados positivos, tenga cuidado con otros contras de coronavirus. Esté atento a curas falsas, medidas de prevención falsas y otras estafas.
Don't Fall for Face Mask Scams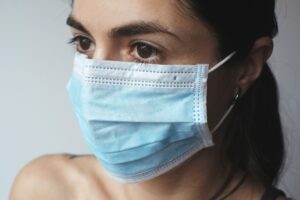 PENSACOLA, Fla. – As the coronavirus outbreak worsens, BBB.org/ScamTracker has received numerous reports about scam websites claiming to see face masks online. As you strive to keep yourself and loved ones healthy, be sure to watch out for phony e-commerce sites and other scams. Even better, save masks for the medical professionals who really need them, says Centers for Disease Control and Prevention (CDC).
How the Scam Works:
You want to buy a face mask to help protect yourself – or family – from coronavirus. Masks are sold out in your local stores and many major online sellers. So, instead, you turn to purchasing masks from an online shop you don't know.
Unfortunately, phony online stores abound – especially when an item is in high demand. According to Scam Tracker reports, these phony sellers take victims' money and never deliver anything at all. One person reported ordering nearly $200 in masks and received no product or response from the seller: "I checked back a few times over the past week to see if there was updated information on a shipping date, but never got more information than that 'the order was being processed." These sites use tricks like limited time deals to entice you into ordering more.
In the worst cases, these sites are actually a way to steal your personal and credit card information, opening you up to identity theft.
How to Avoid Coronavirus Scams:
Be savvy about product claims. While wearing a face mask may seem like an easy way to stop coronavirus from spreading, the CDC does not actually recommend it for the general public. Be sure to evaluate claims of any medical product before buying. Especially watch out for products claiming to offer a "miracle cure" for a range of ailments.
Only buy from reputable stores and websites. The best way to avoid getting scammed is to buy directly from a seller you know and trust. Check BBB.org to see what other consumers' experiences have been.
Be sure the online store has working contact information. If a company seems legitimate but you aren't familiar with it, be extra careful with your personal information. Before offering up your name, address, and credit card information, make sure the company is legitimate. A real street address, a working customer service number, a positive BBB Business Profile . . . these are just a few of the things to be looking out for to determine if a company is legitimate.
As additional people with positive results are reported, be wary of other coronavirus cons. Look out for fake cures, phony prevention measures, and other scams.
[adrotate group="1"]